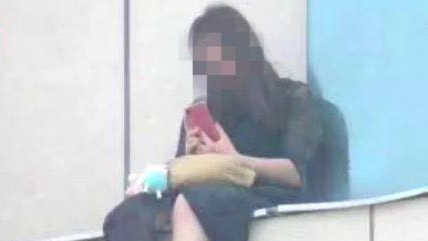 Following a four-hour standoff, the girl jumped to her death. /Miaopai Photo
A Chinese girl who reportedly suffered from depression committed suicide after being sexually harassed by her teacher. The case has grabbed headlines in Chinese media recently, especially because the onlookers, who incited the girl to take her own life, have been detained.
The student, surnamed Li, jumped to her death from the eighth floor of a building in Qingyang City of northwest China's Gansu Province last Wednesday.
Video footage which has been widely circulating online shows some of the passersby shouting provocatively at the girl and even clapping when the girl fell down.
Two of the watchers have been detained, while six netizens who have been accused of "maliciously abusing online" are under investigation, local police said on Monday.
The 19-year-old was sexually harassed in 2016 by her teacher, who kissed her on forehead, lips and cheeks, according to police. 
The teacher, surnamed Wu, was detained for 10 days afterwards over sexual harassment charges.
Qingyang No.6 Middle School wanted to compensate Li with 350,000 yuan (about 53,400 US dollars) for the case in 2016 and asked the victim's family to withdraw the investigation appeal, Li's father said, adding that the offer was reclined.
Li had attempted to kill herself four times in October and December, 2016, May 2017 and January 2018, by overdosing her depression medicine in three of the four attempts, according to police investigation.
Li's father claimed that his daughter was diagnosed with depression and post-traumatic stress disorder after being molested by Wu. "She said depression was something like cancer."
However, prosecutors decided not to indict the teacher since "there is no direct evidence showing a direct connection between Li's health condition and Wu's behavior," a statement provided by Li's father shows.
Xu Jiwei, the fireman who had spent four hours trying to save the girl before screaming and crying out in distress, said he had successfully rescued Li when she tried to commit suicide in 2015. Another 21-year-old fireman participating in the rescue operation has received psychological consultation, according to Xu.
The bystanders have prompted a barrage of criticism online, as many netizens called them "numb" and "irresponsible".
"I will not try to haggle with them," said Li's father, referring to the bystanders . The man said he didn't want to pass on negative emotions to others.