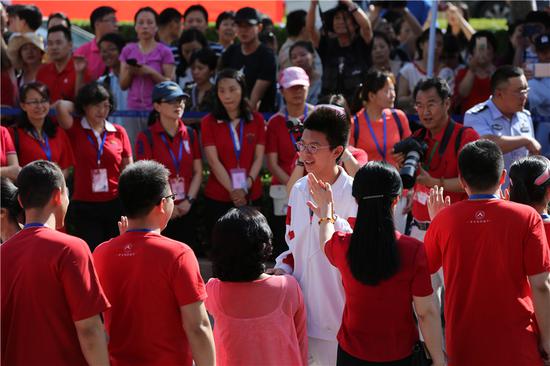 A candidate for this year's national college entrance exam, the gaokao, is cheered up by teachers and parents before entering an exam site in Beijing on June 7, 2018. (Photo by Wang Jing/chinadaily.com.cn)
The gaokao, China's arduous college entrance exam taken by more than 9.75 million students this year, is increasingly being accepted for admission to U.S. universities.
The University of New Hampshire (UNH) recently announced it would start accepting gaokao scores as part of its application process this fall.
UNH is the first flagship U.S. state university and will join other American schools - such as Brigham Young University, the University of San Francisco and the Illinois Institute of Technology - that already accept gaokao scores in lieu of SAT or ACT as entrance criteria.
"The gaokao exam will take the place of the SAT or ACT (for Chinese students), however, admissions standards have not changed and remain high," Erika Mantz, the executive director of UNH's media relations, told China Daily. "Only students who meet the university's expectations and demonstrate a readiness for university-level work will be accepted."
Besides the gaokao, Chinese high school graduates are also required to have an in-person interview, submit an online English proficiency test as a substitute for the Test of English as a Foreign Language (TEEFL) or the International English Language Testing System (IELTS), and provide high school transcripts, according to the program's website.
Designed to attract
"This new program is designed to attract outstanding Chinese high school graduates who are considering a U.S. university after having taken the gaokao exam," said Mantz, adding that the university has streamlined the process so that applications from Chinese students who have taken the gaokao and do not get the results until late June, can be reviewed and processed more quickly.
Another similar program provided by the University of San Francisco has accepted 33 Chinese students through their gaokao scores since the program was established in 2015.
"Collectively, the students who have entered USF through the gaokao admission program have achieved considerably higher results than the Chinese students admitted through the traditional admission process," said Jason Opdyke, assistant vice-president for international admission at the University of San Francisco.
"The combined grade point average of the gaokao students is nearly six-tenths of a point higher than the Chinese students who applied through the traditional admission process," he said.
"The gaokao admission program has been a success so far. We have met our goal of enrolling an average of five to 10 students per year, and as a collective group, they are outperforming our other Chinese students by a considerable margin," Opdyke said.
"The type of gaokao students we have targeted are bright students who were clearly prepared to succeed at the highest academic levels," he added.
"The UNH's program shows that more and more U.S. universities recognize scores from gaokao," said Jimmy Yuan, CEO of Key Review Inc, a study-abroad agency based in New York. "In recent years, more and more Chinese students who participated in gaokao decided to apply for U.S. schools afterward, especially when they were not satisfied with their results."
For students considering overseas study after the gaokao, applying for U.S. colleges with gaokao scores allows them to bypass spending a year studying U.S. standardized testing and TOEFL, IELTS or any other language assessment, saving them time and money.
"USF started our gaokao admission program as a way to target a small number of top Chinese students who did not get into their Chinese university of choice," Opdyke said. "We knew these students would be open to studying in the U.S. as an alternative but recognized that many did not want to spend an extra year preparing for the standardized tests that are typically required in order to go abroad."
For the U.S. universities, it also enables them to attract more Chinese students. With 377,000 currently enrolled in U.S. universities, they represent one-third of the international students in the U.S..
Important revenue
As international students often have to pay full tuition fees, they have been viewed as an important source of revenue for American universities.
UNH had 781 international students on campus last fall, double the figure from the five previous years. About half of those international students came from China.
International students at UNH pay more than $45,000 a year in tuition and housing.
International students contributed $36.9 billion to the U.S. economy last year, supporting more than 450,000 jobs, according to Esther D. Brimmer, executive director and CEO of the Association for International Educators. "Chinese students alone contribute $12 billion, alongside countless other benefits."