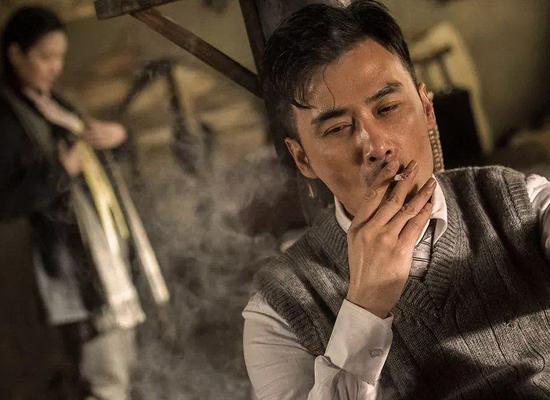 A smoking scene from the spy-themed TV drama Flying Kite. (Photo/CHINA DAILY)
Smoking scenes in Chinese movies and TV series have generally declined over the past decade, but not all producers are keen on extinguishing such on-screen depictions. Last year's figures were worse than in 2016, according to an anti-tobacco group.
Actors and anti-smoking activists have called for a movie rating system and stricter regulation over domestic movies and TV series to reduce scenes depicting characters lighting up, so as to lessen any negative effects on young people.
Among the 30 most-watched Chinese films last year, The Founding of an Army had the longest total smoking scene time-1,145 seconds-accounting for 14.3 percent of the film's total run time, said Liao Wenke, deputy director of the Chinese Association on Tobacco Control.
The record was followed by the spy-themed TV drama Flying Kite, which had 745 seconds of smoking scenes.
Both works were given the Dirty Ashtray Award, a mock accomplishment meant to name and shame offending movies. It was established by the association in 2011.
This is the 10th year the association has surveyed Chinese movies and television shows. Twenty of the top 30 movie blockbusters had at least one smoking scene last year, down 23 percent from 2007. The declining trend in TV series was even more apparent-17 of the 30 most-watched shows had smoking scenes in 2017, down by 37 percent from 10 years ago.
"The obvious declining trend was realized after joint efforts by the industry watchdog, film and TV industry workers and audiences," said Xu Guihua, a senior consultant for the association.
However, the proportion of productions having smoking scenes has fluctuated during the last 10 years, and the percentage last year in both films and TV series rose from 2016.
Xu said she thought the annual increase was because 2017 saw relatively more films and TV series featuring period pieces or having espionage themes.
"The majority of movies and TV series having lots of smoking scenes are those with historical and spy themes," she said. "But the smoking scenes will mislead young people into thinking that smoking is attractive and fashionable, and they may imitate the smoking behavior."
Under regulations issued in 2009 and 2011 by the former State Administration of Press, Publication, Radio, Film and Television, smoking scenes are "strictly controlled" rather than banned.
Actor Feng Yuanzheng, China's anti-smoking image ambassador, said one reason movies with smoking scenes can influence teenagers is the absence of a movie rating system. That opinion was shared by the association's leaders.
"Some movies must have smoking scenes to create an atmosphere, so it's not possible to ban smoking scenes in all films," he said. "But we can use a movie rating system to limit those movies from widespread dissemination."
Jiang Wen, a publicity officer for the National Health Commission, said the commission would enhance communication with the newly formed State Administration of Radio and Television to further control depictions of tobacco use in movies and TV series.
China is the world's largest consumer of tobacco. It has set a target to reduce the smoking rate among people aged 15 and over to 20 percent by 2030 from the 27.7 percent recorded by the Chinese Center for Disease Control and Prevention in 2015, according to the Healthy China 2030 blueprint issued by the central government in October.