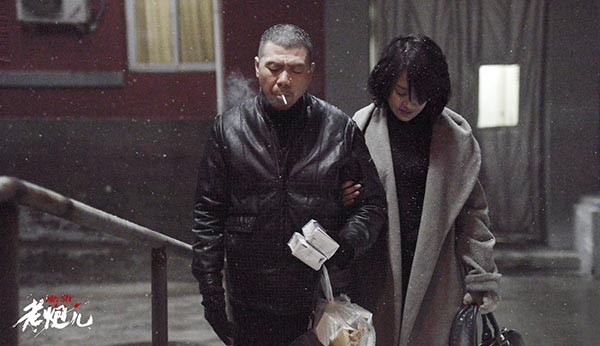 A still shot from Mr. Six. (Photo/Mtime)
Award-winning Chinese movies have been criticized for containing too many smoking scenes.
This sets a bad example for young viewers, according to a report on Tuesday by the Chinese Association on Tobacco Control.
Blockbuster film Mr. Six, starring Feng Xiaogang, was given the "top ashtray prize" for the most smoking scenes of all domestically made films and TV series.
The report, which covered 30 Chinese movies and 30 television series shown last year, said the two-hour Mr. Six has 102 smoking scenes.
Another two films, The Dead End and The Hundred Regiments Offensive, contained 23 and 20 smoking scenes respectively.
"Ashtray trophies" were presented for the movies but no one accepted them.
Hu Dayi, the association's director, said, "We aim to help foster an anti-smoking social environment where public smoking is openly denounced and rejected."
He said that not many Chinese people oppose smoking in public places.
The report said the general situation has improved in the past decade thanks to government-led anti-smoking efforts and increased public awareness.
There were no smoking scenes in eight of the 30 movies, an increase of more than 15 percent on 2007, when the association began such checks.
It said the average number of smoking scenes in each film had dropped by 50 percent during the same period.
Most of these scenes took place in public places, workplaces and in family homes, while schools and public transportation were "cleaner", the report said.
In 2009 and 2011, the State Administration of Press, Publication, Radio, Film and Television issued two notices controlling smoking scenes in films and TV series.
But this only curbed unnecessary smoking scenes, and no blanket ban was introduced, said Yang Jie, a researcher at the Chinese Center for Disease Control and Prevention.
However, serious "relapses" were observed in 2011 and 2014.
Yang called for stricter management of such scenes by the administration, as studies had found children exposed frequently to on-screen smoking scenes were far more likely to smoke than those who were not.
Of the 30 TV series sampled last year, 60 percent had no smoking scenes, an increase of 55 percent on 2007.
Both the number of smoking scenes and the length of each one had dropped substantially, the report found.