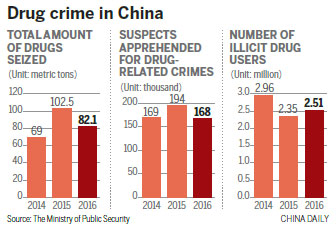 The number of registered illicit drug users in China at the end of last year reached 2.5 million, a rise of nearly 7 percent compared with 2015, according to the latest national drug report.
However, the number dropped significantly from the nearly 3 million recorded in 2014, according to the Ministry of Public Security, which said in a statement on its website that the number of drug users sent to compulsory rehabilitation centers nationwide last year reached 357,000.
The ministry said anti-drug authorities across the country have stepped up efforts in controlling the illegal use of chemical products, anesthetics and psychotropic drugs for illicit drug production.
Police cracked 449 cases and seized 1,585 metric tons of such materials last year.
In recent years, new psychoactive substances, which are known as NPS, have presented a new challenge to China's anti-drug efforts.
"Local police stations or bureaus are not equipped with the latest technology for drug testing, which means NPS are hard to detect," said Hua Zhendong, deputy director of the ministry's drug testing laboratory.
NPS are usually legal products because they are mainly formed from existing chemical substances that are used legally for the treatment of diseases. Therefore, it is hard for legislation to control such chemical substances, Hua said.
According to the ministry, 82 tons of all drugs were seized last year, including 30 tons of methamphetamines, 8.8 tons of heroin and 10.4 tons of ketamine.