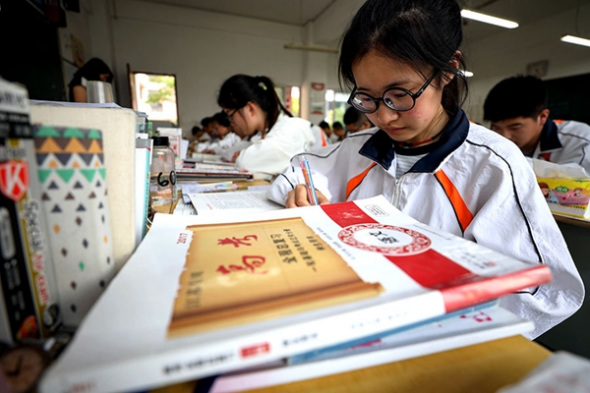 Students prepare for gaokao in Lianyungang, Jiangsu province in 2017. (Photo by Si Wei/China Daily)
The Ministry of Education has emphasized the nationwide cancellation of five items giving students bonus points in the national college entrance examination, or gaokao, in an article published Wednesday on its official website.
The cancellation will relate to students with talent in sports, winners in the international Olympiads, "prize winners of science and technology competitions", "provincial excellent students" and "good merit students", according to the article.
The article came after a notice issued by the ministry on the student enrollment work of colleges and universities in 2018, listing six key tasks emphasized in the notice to secure smooth work for this year's gaokao.
The ministry said that authorities should take special action on comprehensive management of the examination environment, strengthening supervision over the circulation links of test papers to ensure the absolute safety of test papers.
Authorities were urged to actively and steadily push ahead reform of the college entrance examination and enrollment and reform of the high school academic level examination and comprehensive quality evaluations.
The ministry also said authorities should promote the fairness of rural students being enrolled by colleges and universities, prevent fraudulent activities, and secure the safety of enrollment information and student information.