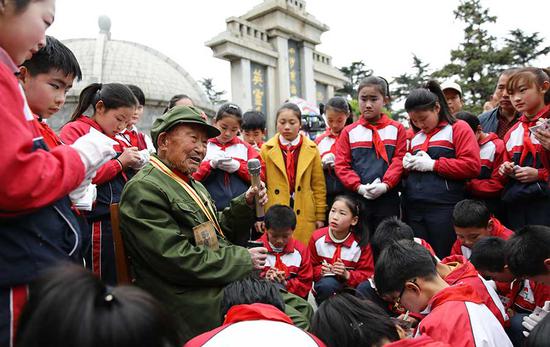 Ma Ruying, a veteran who fought in the War of Resistance Against Japanese Aggression (1931-45), shares his memories about the war with students at a cemetery in Lianyungang, Jiangsu province, on April 5, Tomb Sweeping Day. (Si Wei/For China Daily)
China's cultural affairs watchdog announced on Thursday that it had punished an online video channel for violating China's law against maligning revolutionary martyrs.
Rage Comic, an online cartoon series turned video channel, uploaded a one-minute clip on Toutiao, a Beijing-based streaming media provider, on May 8.
In the clip, the host made fun of Dong Cunrui, a PLA soldier during the War of Liberation (1946-49) who blew himself up in order to guard an approach to a bridge and destroy a Kuomintang bunker. Dong is hailed as a war hero in today's China, but the host parodied the story by replacing bunker with "burger"-which rhymes in Chinese-and turning Dong into a starving diner.
The same clip also includes a vulgar parody of a poem written by Ye Ting, a widely-respected Communist general, when he was in a Kuomintang prison. The parody included adding an advertisement for "painless abortion".
This clip infuriated the public and was removed.
According to a statement by the Ministry of Culture and Tourism, it has guided the local cultural department in Shaanxi province, where Rage Comic is based, to mete out executive punishment as soon as possible.
It also said Toutiao will be investigated for failing to shoulder its responsibility to supervise the content of its broadcasts.
The ministry revealed that it recently began a large-scale move to vet online video clips, according to the nation's Law of Protection of Heroes and Martyrs, which took effect in April, and other rules regulating cyberspace.
More than 60,000 clips have been removed during the campaign, and 8,030 accounts have been punished.
"Supervision of the online cultural market will be strengthened," the statement said.
"The ministry will keep a close eye on actions to distort, deface, profane and deny the merits and spirits of heroes and martyrs."
It also vows to establish a "blacklist" of severe violators in the industry.
The Rage Comic website is now locked due to "maintenance", and it has not responded to the statement.