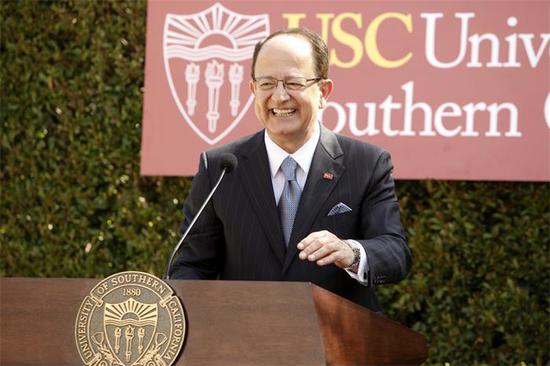 The profile photo of President Max Nikias. (Photo provided to China Daily)
Two hundred faculty members at the University of Southern California (USC) have called on school President Max Nikias to step down following accusations of sexual misconduct against a former physician at the school's student health center.
In a letter to the school's board of trustees, the faculty members said that he had "lost the moral authority to lead" in the wake of revelations that a campus gynecologist was kept on staff for decades despite repeated complaints of misconduct, The Los Angeles Times and NBC reported.
The faculty members from 14 different schools within the university said that they had come together to "express our outrage and disappointment over the mounting evidence of President Nikias' failure to protect our students, our staff, and our colleagues from repeated and pervasive sexual harassment and misconduct," the newspaper reported. "We call upon President Nikias to step aside, and upon the Board of Trustees to restore moral leadership to the university."
In response to the letter, Board chairman John Mork released a saying that while trustees were "troubled by the distressing reports" about the campus doctor, he and others on its executive committee "strongly support" Nikias, according to the Times.
There have been calls for Nikias' ouster on social media and in an online petition circulated by alumni since the Times last week detailed USC's handling of Dr. George Tyndall.
The Times quoted former colleagues alleging that Tyndall targeted young women, especially those from China and other Asian countries, for exams that included inappropriate touching and lewd remarks about patients' sex lives and bodies.
After the Times' report, the Chinese government issued a public statement expressing "serious concerns" about USC's handling of Tyndall after the university admitted that the gynecologist continued working at the school despite allegations of sexual misconduct.
In a statement, the Chinese Consulate General in Los Angeles asked that USC "deal with the case in a serious manner, conduct an immediate investigation and take concrete measures to protect the Chinese students and scholars on campus from being harmed."
On Tuesday, Nikias also sent the campus community a 20-page "action plan" that he said was prepared at the request of trustees, according to the newspaper.
It called for a wide rethinking of university ethics that will include a rewriting of USC's Code of Ethics and a new presidential commission on improve campus culture. "We must change the culture at the university, and instill a higher level of professionalism and ethics," Nikias wrote.
On Monday, four former USC students sued the school and the ex-campus gynecologist, Tyndall, who they accuse of molesting patients over decades as a "serial sexual predator," according to a court filing, the Times reported. Tyndall routinely made crude comments, took inappropriate photographs and forced the plaintiffs to strip naked and groped them under the guise of medical treatment for his "sexual gratification," the civil lawsuit said.
Tyndall, who worked at a USC clinic for 30 years, denied wrongdoing in interviews with the Times.
A Times report on May 16 revealed that he was accused by coworkers of exhibiting "creepy behaviors" toward female patients, including inappropriately photographing genitals of student patients and touching women inappropriately during pelvic exams.
Despite the various accusations, school administrators didn't suspend Tyndall until 2016 and didn't formally end his employment until June 2017, the newspaper said. The university also didn't inform California Medical Board, a state agency that licenses and regulates medical professionals, until March when Tyndall requested his reinstatement, according to the Times.