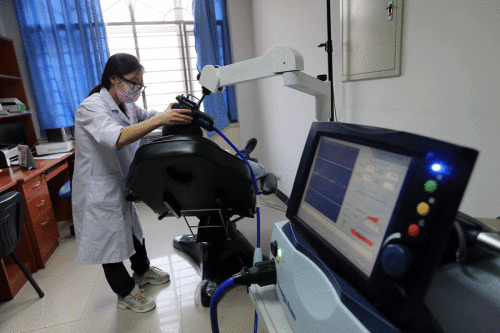 A doctor treats a patient with a sleep disorder at Peking University Sixth Hospital in Beijing. (Photo/Wang Zhuangfei)
The average age of patients reporting chronic insomnia and related problems is falling
About two months ago, Xing Yan started experiencing insomnia for the first time.
"It developed suddenly. I was under heavy pressure from work at the time. I could not fall asleep at all at night, and was wide awake until dawn. I tried not to think of the things that were troubling me and forget them, but the thoughts quickly returned, making it even harder for me to fall asleep," said the bank employee from Fushun, Liaoning province.
Before the insomnia developed, Xing had regularly experienced less serious related disorders, such as taking a long time to fall asleep. He believes his tendency to worry may be the cause of his insomnia.
In addition to acute fatigue during the day, Xing feels he is experiencing the physical consequences of insomnia, such as an unexplained stomach ache.
"I became very frightened when I realized I could not sleep every day," said the 40-year-old, who has been admitted to Peking University Sixth Hospital in Beijing for treatment. "I may be ruined if this situation continues."
In an attempt to overcome his problem, Xing plans to rigorously follow the advice of his doctor, such as getting up and going to bed at fixed times, and taking medication.
Sun Hongqiang, director of the Sleep Medicine Center at the hospital, said his team has seen a constant rise in the number of patients with sleeping disorders in recent years.
Despite seeing about 100 patients every day, the 12 doctors at the center are unable to meet demand, which means many patients endure a long wait before they can consult a physician, according to Sun.
"Globally, the incidence of sleep disorders is rising," he said. "In China, about 30 percent of the population has sleep disorders, while around 10 percent frequently experience insomnia."
It is unclear what is behind the rise in the number of people with sleep disorders, but the problem may be linked with factors such as personality, brain-related illnesses and disturbed lifestyles, he added.
Nationwide problem
According to a report published last month by the Chinese Sleep Research Society, 56 percent of respondents said they slept poorly.
Sixteen percent of respondents who had insomnia worked in information technology, making IT professionals the work group most likely to experience the problem.
They were followed by blue-collar workers, salespeople and consultants, according to the report, which was based on an online survey of 2,000 people ages 18 to 50 in 10 major cities. More than 60 percent of respondents born after 1990 said they had problems sleeping.
While about 70 percent said their sleep was affected by work pressures, other causes of disrupted rest included emotional issues, environmental factors, such as noise pollution, general ailments and lifestyle, such as excessive use of smartphones at night.
The most common problems included frequent dreams, light sleep and postrest fatigue.