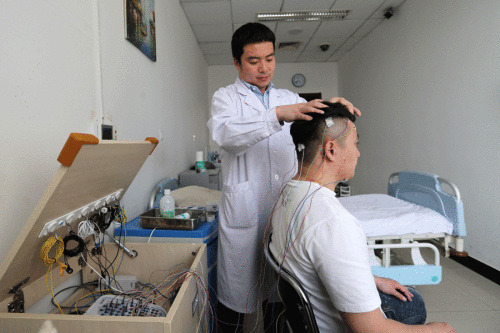 A man undergoes a brain scan at Peking University Sixth Hospital. (Photo/Wang Zhuangfei)
A report released by the society in 2016 said that 38 percent of adults in China have experienced insomnia.
In addition, more than 300 million people had sleeping disorders, and the number was rising every year.
While some sleep disorders may simply be an unpleasant fact of life for many people, others-such as inability to fall asleep and rising excessively early or far too late-may be caused by undiagnosed physical illnesses, so people with those problems should seek medical advice, according to Sun, from Peking University Sixth Hospital.
"I received a patient who had experienced insomnia for many years for reasons that had been unclear. A scan showed an abnormal area of more than 5 centimeters in diameter in her brain, which was the major cause of her problem," he said.
The woman was later referred to the neurological department for treatment.
Sleep disorders can occur at almost any age, but in general, women are more likely to experience insomnia, and most of the patients Sun sees are age 45 and older.
Guo Xiheng, director of the Respiratory and Sleep Medicine Center at Beijing Chaoyang Hospital, said rising awareness of sleep disorders in recent years has seen a growing number of people seeking help at clinics, and the average age of patients is falling.
"In the past, most insomnia patients were middle aged or elderly, but now more young people are experiencing these problems," he said.
Compared with seniors, whose sleep patterns deteriorate as a result of advancing years, sleep disorders in young people are more likely to be the result of bad lifestyle choices, such as staying up too late and irregular sleeping schedules, he said.
The report released by the Chinese Sleep Research Society last month showed that 31 percent of respondents said they needed more than 30 minutes to fall asleep.
Nearly 60 percent of those born after 1995 used smartphones for as long as 80 minutes before going to bed for activities such as chatting and watching movies online, the report said.
Sun said people with sleep disorders may be offered a range of treatments, including psychotherapy, medication and even surgery if it is deemed necessary.
"Many illnesses can cause sleeping disorders, and they should be noted during diagnosis so they can be treated," he said.
A prime treatment for insomnia is cognitive-behavior therapy, which includes fixed times for getting up and going to bed, avoiding afternoon naps and undertaking relaxation training.
A relatively new treatment involves transcranial magnetic stimulation, where special equipment is used to produce a magnetic field around a patient's head that can alter their mood, according to Sun. "Patients with mild problems may only need clinical treatment, but patients with serious disorders may need to stay in hospital for treatment for about two weeks," he said.
Lack of facilities
According to a report released last month by Ipsos, a business consultancy in Paris, about 2,400 hospitals across China operate sleep medicine clinics, but only about 220 hospitals have established departments to tackle sleep disorders.
Every month, an average of 60,000 diagnoses of sleep-related problems are made in China, mainly at clinics in large hospitals in urban areas, according to the report.
Han Fang, a physician who specializes in respiratory diseases at Peking University People's Hospital, said fewer than 2 percent of people with sleep disorders have received diagnosis and treatment as a result of the small number of doctors specializing in the field and a shortage of hospital beds.
Sun, from Peking University Sixth Hospital, said sleep medicine is still not an independent discipline in China, which has hampered the education and training of specialists, and also limited their career development.
He said doctors who specialize in sleep medicine in China generally come from related backgrounds, such as respiratory medicine or neurological science.
Workload set to rise
According to Ye Jingying, a professor in the sleep medicine department at Beijing Tsinghua Changgung Hospital, the workload of specialists in the field is likely to rise steeply in coming years as a result of China's rapidly aging population and the growing number of obese people.
"The development of sleep medicine needs more support from the government, such as extending the coverage of medical insurance programs to a wider range of illnesses and treatments," she said.