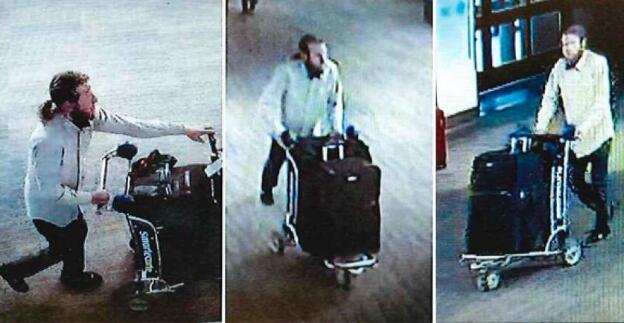 Surveillance photo of possible suspect in case of Red Panda's missing unicycle. Provided to chinadaily.com.cn
The search is on to find Red Panda's missing unicycle.
Red Panda Acrobat is the stage name for Krystal (Rong) Niu, who has performed for years during halftimes of NBA and NCAA college basketball games in the U.S..
The native of Shanxi province rides a unicycle on basketball courts across the country while balancing bowls on her head. She also kicks the bowls from her foot to her head while on the unicycle.
She is a regular performer for the NBA's Golden State Warriors, the Los Angeles Clippers and Los Angeles Lakers and has appeared on America's Got Talent.
The 7-foot unicycle, which cost $25,000, was either taken by mistake or stolen from a baggage carousel at the San Francisco International Airport last week.
"She's heartbroken," her agent Pat Figley of Farallon Entertainment in San Francisco told KTVU in Oakland on Wednesday. "It's like her baby was kidnapped. She's had that unicycle for 30 years."
Niu was en route from Denver on Jan 24 when she landed at SFO. She saw her bag from a distance as she waited for it to come off the belt. It was about 10 to 15 feet away when someone "must have grabbed it", Figley said. He said if it was taken by mistake, he hopes it's returned, no questions asked. Figley's also offering a $2,000 reward for its return.
San Francisco police released a surveillance photo of a man they said wheeled off the unicycle. He was described as having red hair, a red beard and wearing black sneakers.
Niu so far has had to cancel one performance, at a UCLA game on Jan 25.
Figley said Niu has a replacement unicycle but it's not the same.
"She's dropping bowls. She's just not used to it. The one that was stolen was custom built for her," he told KTVU.
Niu has been performing Chinese acrobatics since the age of 11 and developed her bowl-flipping act with the Shanghai Acrobatic Troupe. According to Farallon's website, Niu holds the world record for the most bowls balanced on her head, a feat that was broadcast on a Guinness World Records television show in 1999.
Tweets across the U.S. have been supportive, with Louisiana State University basketball promising an LSU-themed crawfish boil and university gear as a reward.
Sports Channel 8 in North Carolina tweeted that "we vow to search for Red Panda's unicycle".