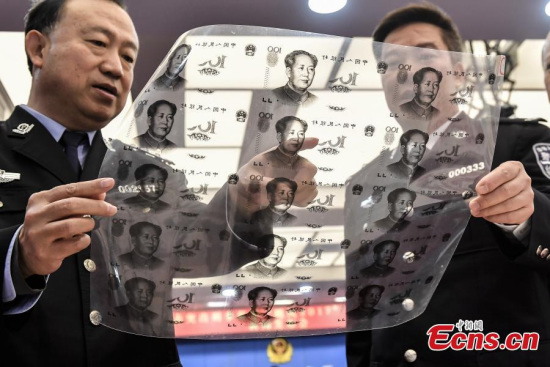 Police show incomplete and finished counterfeit money seized in raids in five cities ? Shanwei, Zhongshan, Guangzhou, Shaoguan and Jieyang - of South China's Guangdong Province, Jan. 16, 2017. (Photo: China News Service/Chen Jimin)
Police in south China's Guangdong Province have cracked a banknote counterfeiting gang, seizing 14 suspects, local authorities said.
Police netted fake banknotes with a face value of 214 million yuan (around 33 million U.S. dollars), raiding a money-making plant and a storage house, according to the Guangdong Public Security Department.
The investigation began last March when officers obtained information about the counterfeiting ring. Eight suspects were caught in a raid in Shanwei City for allegedly trading fake banknotes with a face value of 24 million yuan.
The police later raided a storage house for fake money and found counterfeit notes worth 170 million yuan. Another six suspects were caught in a flat in Zhongshan City, where police seized semi-finished fake banknotes with a value of 20.25 million yuan.
"We've caught all suspects in the ring and stopped the fake notes from circulating on the market," said a police officer with the department.
Guangdong police are encouraging the public to provide information about counterfeit banknotes. Police will offer a reward for any information leading to the arrest of suspects.