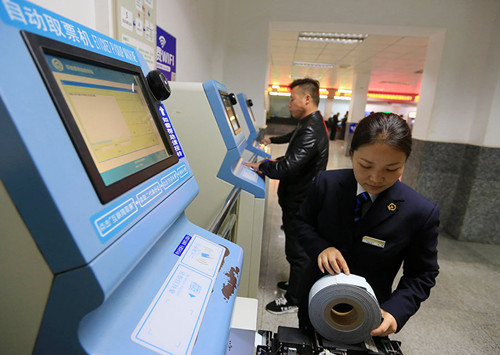 A railway worker maintains a self-service ticket vending machine at Kaili Railway Station in Guizhou province on Tuesday. (Photo/Xinhua)
Train tickets for the first day of the Spring Festival travel rush will go on sale on Wednesday, according to China's railway operator.
China Railway Corp released the ticket-buying timetable on Sina Weibo on Friday. It showed the 40-day period will begin on Feb 1 and finish on March 12.
People can buy tickets online or by phone 30 days in advance. Presale at railway stations, ticket agencies and self-ticketing machines is 28 days, the timetable indicated.
This year's seven-day Spring Festival holiday runs from Feb 15 to 21, Lunar New Year's Eve until the sixth day of first lunar month. The travel rush is expected to peak around the holiday's first and last days.
"I failed to buy a sleeping berth and finally grabbed a ticket for a seat during the 2015 holiday rush. But buying a rail ticket has been much easier since the high-speed railway to my hometown opened," said Zhao Yu, 22, an editor from Daqing, Heilongjiang province, who works in Beijing.
"This year, I will join the crowd of ticket buyers who fight for tickets on Lunar New Year's Eve. So I decided to get help from some smartphone applications, and if I fail I will buy the ticket the next day," Zhao said.
A Sina Weibo user called Maxiangwen commented, "No matter how late I begin my holiday, I just hope I can get a sleeping berth."
To ease the ticket buying process, China's railway customer service center - 12306.cn - added WeChat Wallet as a payment method on Nov 23.