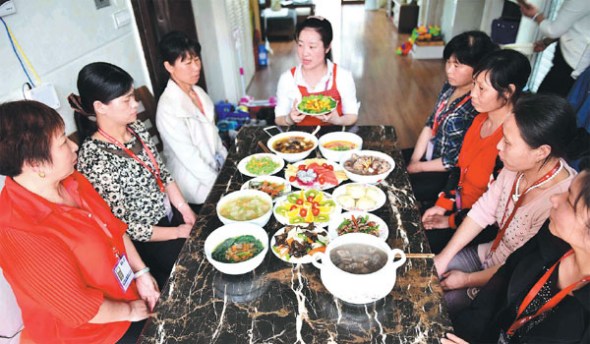 Maternity nurses attend a training session in Ji'an, Jiangxi province, in May last year, on how to cook nutritious meals for women who just give birth to a baby. (Li Fusun / For China Daily)
Caring for mothers and newborn babies in foreign countries offers some women rare chance to travel
Men Anping, a Beijing-based domestic maternity nurse who cares for mothers and newborn babies, has just agreed another job offer to go to Australia for two months.
In May, she stayed in Sydney for a month to care for a Chinese woman and her newborn baby.
For her new contract in January, she will take care of another Chinese woman giving birth in Sydney. This time, the woman intends to spend two months at home rather than one month, which is usual for Chinese women after giving birth.
"Such trips to a foreign country are beyond my expectations. I was born and raised in a rural area, and didn't anticipate that I could leave the countryside and go to Beijing. Now I am going farther, even abroad," said Men, a 48-year-old from Liaoning province in Northeast China.
Nowadays, with the number of Chinese women giving birth overseas rising, many domestic maternity nurses, like Men, are traveling far afield.
The demand for such services has grown considerably over the past five years.
The domestic services company Youfumama, which first began providing outbound services in 2013, said the number of maternity nurses that went overseas that year was three, and the number has risen to 20 so far this year. Shanghai Xinmu International Domestic Service said the demand for domestic helpers around the world has surged by around 30 percent each year in the past five years.
Clients from Beijing and Shanghai account for more than 80 percent of the total and many of those who invite maternity nurses to undertake overseas assignments are those who plan to give birth to their children abroad, said Man Jinglun, operations manager of Youfumama, which is based in Beijing and has businesses in seven Chinese cities.
Man said the pay for an overseas assignment is at least 20 percent higher than an equivalent assignment at home, for which the pay is no lower than 10,000 ($1,500) in major cities.
"The pay is the same no matter where their destination is and the client has to pay for the domestic helper's round trip air tickets and food," said Man. Given the nature of the work, they stay in the clients' homes.
The agencies give instructions to the domestic maternity nurses about dos and don'ts, the weather and the time difference before departure.
"We will tell them how to deal with unexpected situations. For example, if their purse is stolen. We also advise them to start an international roaming service for their cellphones so that we can get in touch with them," Man said.
Most maternity nurses are happy to accept the opportunity to work abroad.
"First of all, the experience is an advantage. Each ayi has a brief introduction of themselves on our company's website. Such experience means they are likely to be chosen by more clients and get a higher rank and pay from their companies," Man said.
Moreover, it may be an once-in-a-lifetime chance for the domestic helpers to go abroad, as most are from impoverished rural backgrounds.
"For many of them, it may be their first time taking an airplane. In most cases the clients will give them a couple of extra days to travel around at the destination after they finish the work, which is four weeks in most cases," he said.