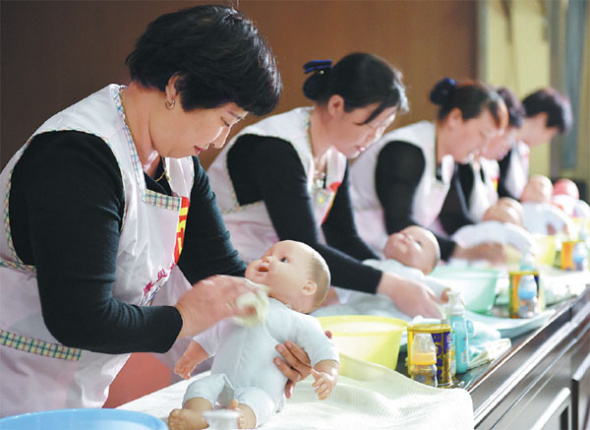 Maternity nurses participate in a baby care competition in Qinyang, Henan province, in April last year. Li Yafeng / For China Daily
But still, about 1 in 5 will say no to such an opportunity for reasons such as the concerns that they will not adapt to the local culture.
However, this was not the case for Men, one of her agency's star maternity nurses, she earns 15,800 yuan for each monthlong service.
Men said she applied for a passport when she returned to her home province during the Spring Festival in January. "Some younger colleagues had already obtained such opportunities to go abroad, I wanted to try it as well," she said.
Most of the domestic maternity nurses Youfumama recommends to clients are in their 30s, said Man.
"Although English is not a must, we hope they will be flexible when encountering emergencies. For example, they know how to use a translation app on a smartphone and how to express themselves with body language," he said.
Men said it was her first time taking an airplane. "I was very excited and nervous. I arrived at the airport three hours before the boarding time and was told that the flight was not ready to check in," she said.
The job went smoothly and, after completing the month of work, she had two days to travel around by herself. Men spent one day joining a Chinese tour, including visiting the Sydney Opera House and enjoying a dinner on a cruise around the Sydney Harbor Bridge, and the other day visiting the zoo to see koalas and kangaroos.
The main challenge for maternity nurses overseas is that they don't have the same food ingredients as those in China.
"In China, we traditionally stew soup with crucian carp for new moms, as it ensure the women have enough breast milk for the baby. But such fish is nowhere to be found in Western countries," said Hua Hongmei, a 48-year-old maternity nurse from rural Huai'an, Jiangsu province.
"I encourage my overseas clients to ensure they have some traditional Chinese medicine ingredients available for after they give birth," said Hua, who has been to Australia and the United States to care for mothers and their newborns.
Visa problem
Domestic services agencies said they usually suggest their staff obtain tourist visas for jobs overseas as their work contracts are short term.
"Although some of our ayi are from the Hong Kong Special Administrative Region and the island of Taiwan, and it is easier for them to get a visa to the United States," said Iris Yang, a customer services manager at Shanghai Xinmu International Domestic Service.
Once they obtain a visa, some maternity nurses try to make the best use of it by working sequential contracts for different families in different US cities or working in local postpartum care centers until their visa expires.
However, some companies said they don't covet the overseas demand for maternity nurses because it can be hard for their staff to get a visa. One of these is Domo, an agency for domestic workers based in Shanghai.
"It's usually easier for an ayi, who is a local Shanghainese, to get a visa but she usually asks for a higher pay and it's hard for the ayi and the client to reach an agreement," said a supervisor at Domo who only gave her surname as Luo.