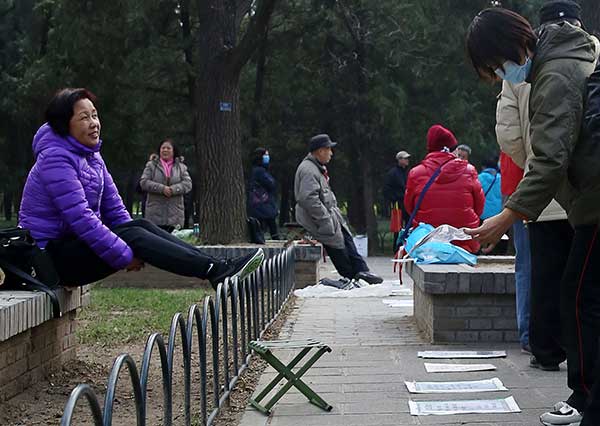 Parents place ads in the Temple of Heaven Park in Beijing, hoping to find a partner for their unwed children. (Photo provided to China Daily)
A price list for Chinese blind dates that has been widely circulated on the net has triggered heated discussion with users dubbing the list a "chain of scorn in marriage".
The list is a common guideline for parents who go to "blind date parks" in Beijing looking for matches for their single children.
The parks display profiles about single men and women detailing their household registration, income, property, education and other hard constraints.
A ranking system has evolved to divide singles as top, high class, standard, low, simple and no consideration. To be grouped in the top echelon, a man should be worth at least 5.6 million yuan, have a Beijing hukou (registered residence), own a house in Beijing's key regions like Dongcheng, Xicheng or Haidian districts, own a good car and earn more than 50,000 yuan a month, have a master's or doctorate, or have studied abroad.
For a woman to be classed as top, she must be beautiful, have a Beijing hukou, own a house in Dongcheng, Xicheng or Haidian districts, have a good car, earn more than 20,000 yuan and have a bachelor's or master's degree.
A Beijing hukou is the key benchmark in the marriage market, more popular than a doctor's degree. Those without a Beijing hukou languish at the bottom of the "chain of scorn".
People whose Chinese Zodiac sign is a sheep also suffer as in Chinese folklore, the sheep indicates a lifetime of bad luck.
A girl with a Beijing hukou, a house in Beijing, and a diploma from a prestigious school is often turned down because of her Chinese Zodiac sign.
Thousands of web users responded with an avalanche of complaints and sneer.
One comment reads: "What's wrong with being born in the year of sheep, they don't eat the grass at your house."
Another writes: "I went to Zhongshan Park last month, it is just like a population trading market."
One single woman writes: "I don't want to get married, it's a twisted social situation."
"Choosing a partner without setting requirements equals behaving like a hoodlum," Shen Bin, a social commentator said. "A marriage between families of equal social rank is reasonable. For men and women whose conditions are suitable, their feeling can be more pure, and the path of marriage goes more smoothly. The public should not demonize matching with requirements."
Beijing News commented that the "blind date price list" merely showcases social scars. It dose not just display the current marital values, but also the stark, brutal truth about social mobility, regional discrimination and sexism. The list is like a menu, dividing people into various grades and ranks. It is more like a battle of class with certain groups of people trying to consolidate the fort of ranks with marriage.
The People's Daily commented that the foundation of all marriages is love.