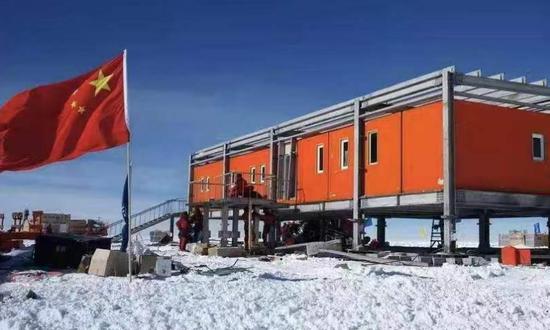 The first Chinese Research Station in Antarctic: The Great Wall Station (Photo/People's Daily)
Special: Battle Against Novel Coronavirus
Members of China's 38th Antarctic scientific expedition team said on Monday that the team had been following strict epidemic prevention measures and members are not allowed to visit other countries' stations, and all team members are doing well at the moment.
According to a British media on January 1, a Belgian scientific research station, Princess Elisabeth Polar Station, in Antarctica is dealing with an outbreak of COVID-19. Since December 14 last year, at least 16 of the 25 members at the station have caught the virus.
"We heard about the outbreak in Belgian station two days ago, but we are not too worried," said Zhang Rucheng, one of the Chinese team members, Hubei-based Jimu News reported on Tuesday.
Zhang noted that both Chinese stations are far from the Princess Elisabeth Polar Station in the Southeast Pole. Zhongshan station is more than 1,900 kilometers as the crow flies, and the Great Wall station is more than 3,400 kilometers,
Besides, since the outbreak began to spread around the world, the Chinese team has ruled that its members are not allowed to contact foreign stations in Antarctic. "We took precautions against the epidemic long ago and the measures are in place, and we are not worried about it," team members said, according to media reports.
"Russia's Progress Station is near Zhongshan Station, and in previous years, we visited each other quite often, but I haven't been close to them since I came this time," Zhang told media, noting the team members are not allowed to go beyond the designated area, and when they go on outdoor expeditions, they rarely encounter members from other countries.
As reported by Belgian media, the first person infected at Princess Elisabeth Station was diagnosed on December 14 last year. At present, two-thirds of the workers at the station are infected with the virus, but those infected have not yet developed severe symptoms.
The Belgian side believes all the team members at the station had been vaccinated against COVID-19 and the infection was most likely caused by the Omicron variant, which is more contagious than Delta.
In December 2020, the virus was already detected in Antarctica and at least 36 cases were confirmed at a Chilean military base, making Antarctica the last continent to report cases. If the outbreak at Princess Elisabeth Station is confirmed to have been caused by the Omicron variant, it would also indicate that it has been found in every corner of the world, BBC reported on Sunday.