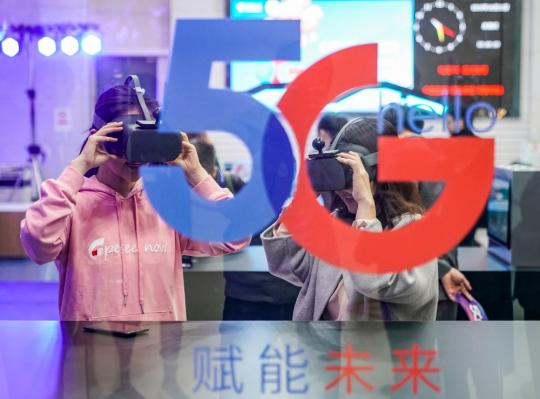 Consumers experience 5G-powered virtual reality video services at a China Telecom outlet in Beijing. [Photo/Xinhua]
China has set up a national 6G research and development working group and a general expert group to promote development of 6G technology, the country's Ministry of Science and Technology (MOST) announced last Sunday during a meeting.
The meeting, joined by organizations including the Ministry of Education, the Ministry of Industry and Information Technology and Chinese Academy of Sciences, marked the official launch of China's 6G technology research and development, according to MOST.
Wang Xi, Vice Minister of Science and Technology, said that global 6G technology research is still in the initial stage of exploration, key indicators and application scenarios have not been uniformly defined.
He added that China highly values 6G technology and will promote the development of 6G with efficiency and openness.
The ministry will work with the general expert group and relative organizations to develop the research and development plan and explore possible technical directions of 6G technology.
On October 31, China launched its 5G commercialization and the three major telecom operators, China Mobile, China Unicom, and China Telecom, in simultaneous moves unveiled their 5G service plans with users in dozens of cities.