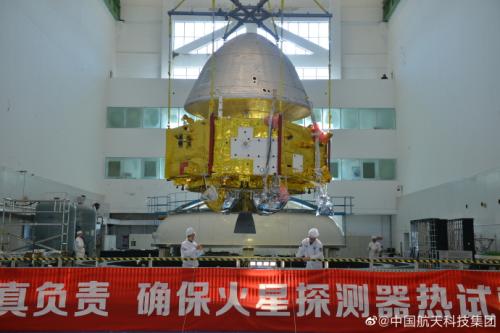 The China Aerospace Technology Corporation unveiled the first picture of the country's Mars explorer, a spacecraft set to be launched into Mars in 2020.
"The mission is going smoothly. If no surprise, the Mars explorer is going to be launched in 2020, and land before 2021," said Ye Jianpei, chief scientist of Space Science and Deep-space Exploration with the Chinese Space Technology Academy.
One mission, three tasks
"Mars exploration is very innovative. If it proves to be a success, it will be the world's first time a country completes the three tasks in one mission," Ye added.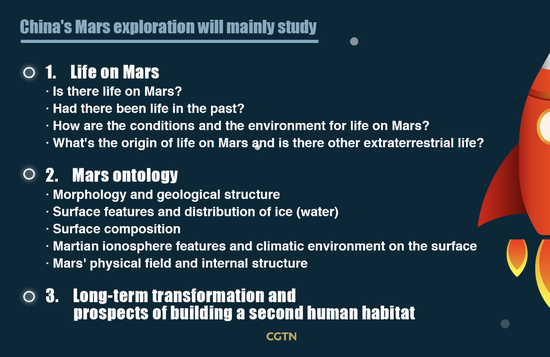 The explorer will be sent into the geosynchronous orbit via the heavy-lift Long March 5 liquid carrier rocket, then have a seven-month flight to Mars. As the country's strongest carrier rocket, the Long March-5 has a payload capacity of 25 tons in low-Earth orbit and 14 tons in geostationary transfer orbit.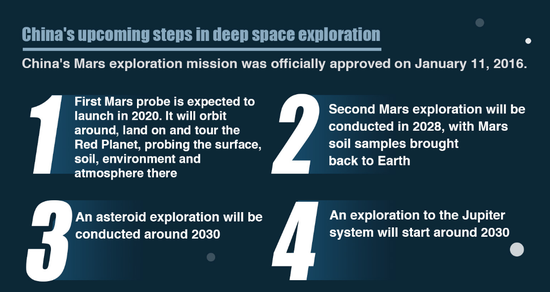 It is designed to examine the Red Planet's atmosphere, landscape, geological and magnetic characteristics, which could provide clues to the origin and evolution of Mars and the solar system, according to Ye.
Why 2020?
"Mars opposition" occurs when the Red Planet is particularly close to Earth. The explorer can travel the shortest distance, with the lowest fuel consumption when this rare cosmic event occurs, which happens every 26 months. The next time "Mars opposition" occurs is in October 2020, that's why scientists choose to launch next year, among other factors.
A computer animated simulation GIF from CCTV