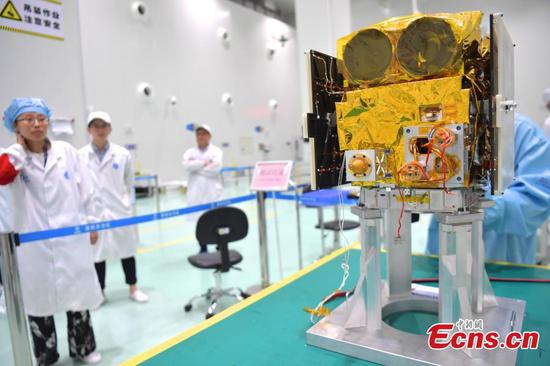 Technicians package the science experimental satellite BNU-1 at the Aerospace Dongfanghong Development in Shenzhen City, Guangdong Province, Aug. 14, 2019, before its transportation to the launch site. (Photo: China News Service/Chen Wen)
China's first polar observation satellite, the BNU-1, has successfully obtained data on polar regions, according to the satellite's chief scientist Wednesday.
After nearly one month of in-orbit testing, the satellite is working normally and conducting full-coverage observation of the Antarctic and the Arctic every day, Cheng Xiao, the chief scientist, said at the China Symposium on Polar Science 2019.
Cheng said the satellite data connection system launched on Tuesday allows scientists around the world to obtain polar observation data acquire by the satellite. Registered users can also propose new observation requirements.
The satellite continuously monitored a gigantic iceberg breaking away from the Amery Ice Shelf in east Antarctica in September, helping limit its impact on submerged buoys and investigation ships in the surrounding area.
Cheng said the satellite will help reduce China's reliance on foreign satellites for polar observation data.
"The satellite's spatial resolution reaches 75 meters, which offers more detailed information on the ice cover and the sea ice," Cheng said.
The satellite will also support China's upcoming 36th Antarctic expedition by enhancing its navigation capability in the polar ice zone.
Developed by the Beijing Normal University and Shenzhen Aerospace Dongfanghong Development Ltd, the satellite weighs 16 kg and is equipped with two cameras and one receiver. It has great significance in promoting the research of polar regions and global climate change.