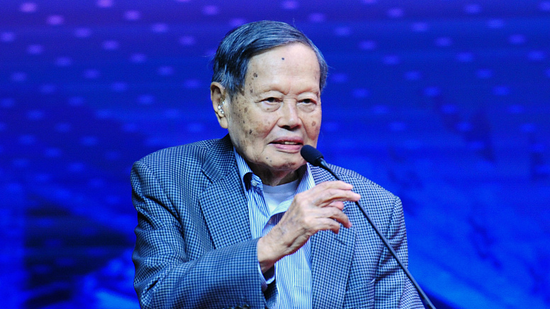 Nobel laureate and Chinese physicist Yang Zhenning (Photo/CGTN)
Nobel laureate and Chinese physicist Yang Zhenning, also known as Yang Chen-ning, was awarded the Qiu Shi Lifetime Achievement Award on Saturday at the 2019 Qiu Shi Award ceremony held at Tsinghua University.
Yang is the second winner of this lifetime achievement award after Zhou Guangzhao, then chairman of the China Association for Science and Technology (CAST), in 2012. However, this was not Yang's first award. Among his many awards and honors for his achievements are the Nobel Prize in Physics (1957), Rumford Prize (1980), U.S National Medal of Science (1986), and the Benjamin Franklin Medal, which he received in 1993. He is also a member of the Chinese Academy of Sciences (CAS), the U.S. Academy of Sciences, the Royal Society of London and the Russian Academy of Sciences, according to his personal profile.
Shao Feng, the youngest member at the CAS and a researcher from the National Institute of Biological Sciences, Beijing (NIBS), and Nieng Yan, China's structural biologist and professor of molecular biology at Princeton University, won the Outstanding Scientist Award. The two join the ranks of previous awardees: Deng Jiaxian, a physicist who helped develop China's first atomic and hydrogen bombs, and Shi Yigong, dean of School of Life Sciences at Tsinghua University.
Nieng Yan was the lead researcher in molecular biology and the youngest professor at Tsinghua University until she took up a professorship at Princeton University in 2017. Her departure sparked heated discussion among the online community of Chinese researchers.
Founded in 1994, the Qiu Shi Science &Technologies Foundation aims to help Chinese scientists in the fields of mathematics, physics, chemistry, life sciences, medicine, and so on.
From 1994 to 2019, 358 Chinese scientists have been awarded by the foundation, with 2 Lifetime Achievement Awards, 31 Outstanding Scientist Awards, 192 Outstanding Young Scholar Awards, and 133 Outstanding Scientific Research Team Awards.