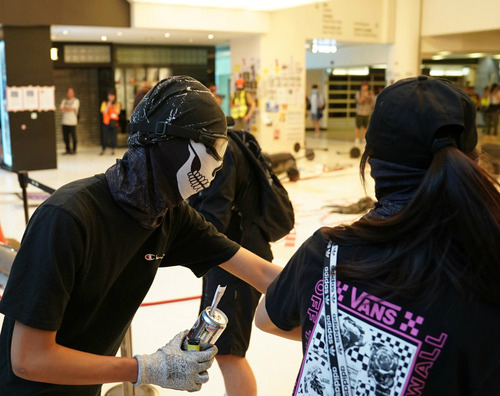 Rioters storm the New Town Plaza shopping mall in Sha Tin in Hong Kong's New Territories on Sept. 22, 2019. (Xinhua)
Demonstrators in Hong Kong turned violent again on Sunday, besieging stores at a busy shopping mall, desecrating China's national flag, beating up citizens, vandalizing metro stations and setting fires in streets.
In the latest development of the months-long violence in the Asian financial hub, radical protesters on Sunday afternoon damaged facilities in the New Town Plaza in Sha Tin in Hong Kong's New Territories.
A number of stores were forced to shut down early after harassment by protesters, who shouted slogans and defaced their exterior with sticky notes accusing their owners of having Chinese mainland backgrounds or siding with the Hong Kong police.
Some radicals trampled on a Chinese national flag inside the mall, defaced the flag and later dumped it into a nearby river.
Several Mass Transit Railway (MTR) stations, including Sha Tin, Tsing Yi, Kowloon, Kwai Fong, Mong Kok and Prince Edward, were forced to close after rioters hammered turnstiles, smashed ticketing machines and sprayed water onto escalators to threaten the safety of passengers.
At Sha Tin station, one man was beaten to the ground by a mob, with blood and heavy bruises over his face.
The masked rioters began to build up barricades and set fires at the Yuen Wo Road in Sha Tin around 5:45 p.m. before the riot police moved in to disperse the crowd. Rioters later retreated to another road and threw petrol bombs and bricks at police, who responded by firing tear gas.
Some rioters also blocked roads and set fires near Mong Kok police station at night.
The airport express train linking the Hong Kong International Airport with the Central district skipped all mid-point stations after radical demonstrators attempted again to disrupt traffic to the airport, Several airport bus routes were also suspended or rerouted.
Since June, Hong Kong has witnessed escalating violence that originated from protests over the proposed ordinance amendments concerning fugitive offenders transfers.
Though the Hong Kong Special Administrative Region (HKSAR) government has withdrawn the amendments, violence continued as protesters veered off its original agenda to raise the ante, causing a split in society and taking a heavy toll on the economy.
The riot on Sunday followed a day of turbulence on Saturday, as rioters threw petrol bombs, blocked traffic and set fires in Tuen Mun and Yuen Long. Police said the rioters even attacked a police officer and attempted to snatch his revolver on Saturday.
The HKSAR government in a statement expressed strong condemnation of the violence and vandalism on Sunday, calling such acts not only illegal but also "extremely selfish" and indifferent to other citizens' rights.
The statement accused radical demonstrators of jeopardizing public safety and affecting people's daily living by blocking roads, setting fires, hurling petrol bombs, vandalizing metro stations and disturbing stores.
It also said the desecration of the national flag allegedly violated the National Flag and National Emblem Ordinance, which may come with a prison term of up to three years.
Also on Sunday, a crowd of Hong Kong parents held a rally outside the HKSAR government complex to plead for an end to the violence and protest against the infiltration of politics in schools.
Meanwhile, a group of Hong Kong mountaineering enthusiasts added a tint of patriotism to Sunday by mounting Hong Kong's iconic Lion Rock and hanging a huge national flag to show their love for the country.
Earlier on Sunday morning, Chief Executive Carrie Lam said the HKSAR government will make every effort to stop violence and chaos, while attending a reception hosted by the Hong Kong Federation of Trade Unions.