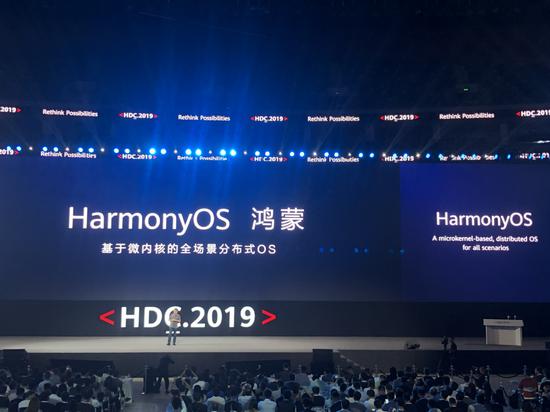 [Photo provided to chinadaily.com.cn]
Huawei Technologies Co unveiled its much-anticipated in-house operating system Harmony OS on Friday, marking the Chinese tech giant's arguably biggest push to build its own software ecosystem.
The move is also expected to offset the influence of the US government's restrictions over the use of Google's Android operating system in smartphones and other hardware.
Yu Chengdong, CEO of Huawei's consumer business group, said an operating system is needed to address future challenges in the era of internet of things, and it is hard to deliver a smooth experience across different devices with millions of lines of code.
Unlike the much-expected name of HongMeng, Huawei adopted Harmony for its in-house operating system to solve all these problems.
Yu said some features of Harmony have already been used in its premium smartphone models and other devices.
When asked whether Harmony can be used in its smartphones, Yu said, "Of course, it can be used in smartphones. But Android is still Huawei's preferred choice for handsets, given the status-quo ecosystem. However, when Android is not available, Harmony can be applied to smartphones immediately."
Yu highlighted that Harmony is the next-generation system based on microkernel, and it can be distributed to all scenarios, including smart TVs, automobiles, and wearables, and other hardware.
Huawei said it has over 500 million registered users and 910,000 mobile application developers on Huawei's platform.