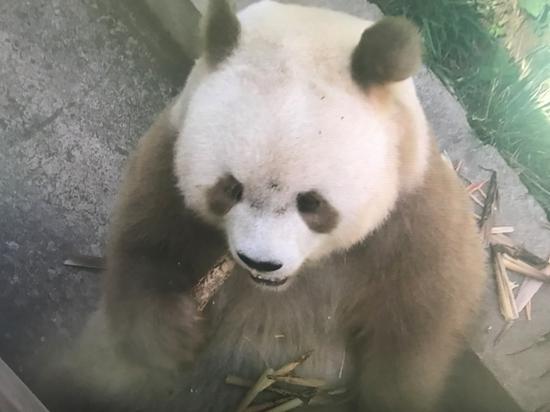 A Qinling panda. /CGTN Photo
This year marks the 150th anniversary of the scientific discovery of giant pandas. To celebrate this, northwest China's Shaanxi Province is holding a promotional week for the Qinling panda, one of the giant panda species. This comes amid new scientific data on the rare species.
Different from the more familiar predominate subspecies of the giant pandas, Qinling pandas have dark brown and light brown fur, rather than black and white, smaller skulls, and a smaller overall size.
The latest research data show the number of existing Qinling pandas has reached 345. It was not recognized as a subspecies of the giant panda until 2005. It has its own territories and the history of evolution.
Wei Fuwen, cultural envoy of the Qinling Panda, said: "Research shows that Qinling pandas and Sichuan pandas separated around 300,000 years ago, so we find no genetic relations between the two kinds nowadays, which proves the uniqueness of the Qinling pandas. They should be strictly protected as an individual species."
To give them better protection, a 500-square-kilometer national park is being built for the species, almost eight times the size of the provincial capital of Xi'an.
Documentary director Pei Jingde is recording the life of the mysterious animal in the wild, from the beginning of their lives to how they grow up, how they establish their territory and also their love stories.
Pei Jingde, director of the Qinling Panda, said: "Sometimes we run into them while walking. They were so cute, and paid no attention to us. We kept recording them after that, day and night, even without sleeping bags or tents. We just stood there for the whole night, to record the real life of the pandas without disturbing them."
Pei has been recording wildlife in Kekexili Nature Reserve in the Tibetan region for more than a decade with his camera. Compared with his past experiences of being threatened by wolves, attacked by bears or chased by snow leopards, this time, working with pandas is like a reward. He said animals have dignity, and he hopes his documentaries will generate people's awareness about wildlife protection.