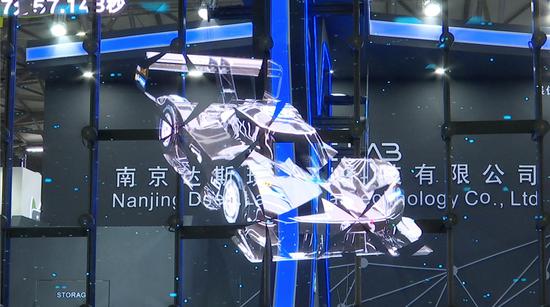 AR/VR companies also demonstrate new applications that enhance the user experience. /CGTN Photo
The latest connectivity technology, including artificial intelligence (AI), augmented, virtual reality (AR/VR), startups and automobile technology are among the emerging trends at the CES Asia 2019 in Shanghai.
In its fifth year, CES Asia features over 550 exhibiting companies showcasing 20 product categories. The three-day event kicked off today at Shanghai has focused on bringing the entire technology ecosystem under one roof.
This year's event features new 5G hardware like smartphones and 5G-enabled technologies. The latest generation of wireless communication technology is driving innovation with a wide array of application across industries, from smart cities to digital health and self-driving vehicles.
AI technologies such as machine learning and object recognition are also fueling innovation. Key exhibitors in the field include iFLYTEK, Skyworth, Horizon Robotics, Nuralogix, Sogou and Cheetah Mobile.
AR/VR companies at the event are also demonstrating new applications that enhance the user experience and create altered perceptions that are now being integrated into new areas like retail, manufacturing and healthcare.
More than 115 startups have also displayed their products at CES Asia. Innovation Norway and AmCham from Singapore were instrumental in getting startups together to represent their countries.
CES Asia 2019 has doubled the size of the show floor of its automobile technology and features the latest cars and connected vehicles.
Automobile giants are using AR to help drivers better anticipate road conditions, while retailers are implementing it to assist shoppers. Hong Kong Applied Science and Technology Research Institute, Johnson & Johnson and Well Being Digital Limited are the top players in this field.
More than 60 global auto brands including Audi, Honda, Hyundai, Kia and Nissan have unveiled their latest innovations across two major indoor exhibit halls.
Concerned over the economic uncertainties and an escalating trade war between China and the U.S., Gary Shapiro, President and CEO of the Consumer Technology Association, said that a trade war is bad for every country involved, and they should focus on what unites people rather than what divides them.