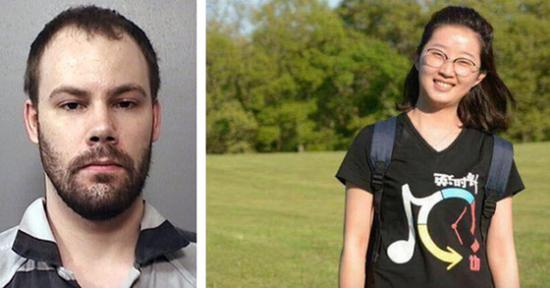 Combined file photo shows Chinese scholar Zhang Yingying (R) and suspect Brendt Christensen.
Twelve jurors and six alternates were selected from a pool of 70 pre-approved jurors on Tuesday in the trial of Brendt Christensen, the accused kidnapper and killer of visiting Chinese scholar Zhang Yingying.
The selection process continued Tuesday morning at a federal courthouse in Peoria, U.S. state of Illinois. Seven men and five women were finally picked as jurors for Christensen's trial.
Four men and two women were also selected as alternate jurors. They will sit in during the entire trial and fill in for a regular juror if necessary.
On Wednesday, both the prosecutors and the defense lawyers will make their opening statements in the trial.
If the jury unanimously holds Christensen is guilty, there will be only two penalties: life in prison or death. According to U.S. Federal law, the jury will decide if the death penalty applies or not in the case.
Zhang, a 26-year-old visiting Chinese scholar at the University of Illinois at Urbana-Champaign (UIUC), went missing on June 9, 2017, after getting into a black Saturn Astra about five blocks from where she got off a bus on her way to an apartment complex to sign a lease.
Police arrested Christensen on June 30, 2017 and charged him with the kidnapping, torturing and killing of Zhang. He pleaded not guilty.