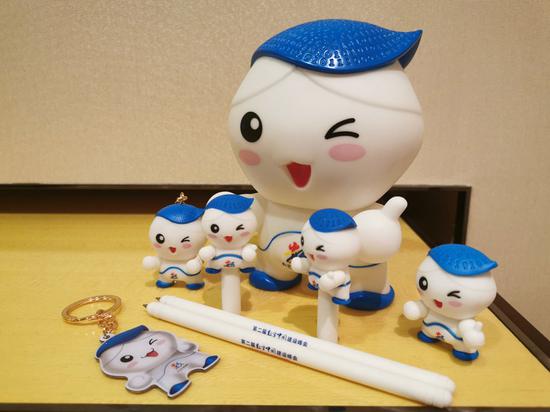 Six mascots can be found in the DCS 2019 media package. /CGTN Photo
Special: The second Digital China Summit
"Click the like button, you know what I mean!"
That's what the mascot for the 2019 Digital China Summit (DCS) is trying to say.
This is the second year for the DCS and the organizers are pretty determined to advertise on the blue-haired little cutie.
In the media package handed to CGTN Digital, there are six mascots including anime figures, keychains and pens.
"Shuwa" is the name for the mascot, which sounds like "number" and "baby" combined in Chinese.
This naming convention is similar to "Fuwa," the five mascots for the 2008 Beijing Olympic Games, where "Fu" means "happiness".
To further promote the usage of Shuwa, the organizers also created a series of WeChat stickers, which can be used as emoji in chats.
No negative emotions can be found among the 24 stickers, which can be seen as a display of confidence by the organizers.
Giant statues of Shuwa can also be found in front of the venue for the summit. It keeps giving thumbs-ups to everyone passing through to express how happy the city is holding the event.
The summit started on Monday and will last until Wednesday. We at CGTN have interviewed some important participants and will also try to do a livestreaming on the sidebar exhibition.
CGTN's owner China Media Group also joined the expo, inviting people to do a short video news coverage using the "5G+4k" broadcasting technology.