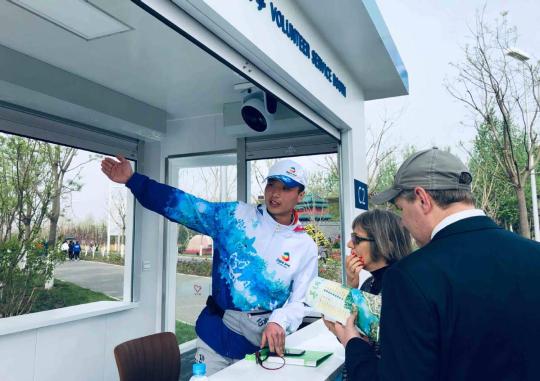 Xu Qing, a volunteer, directs foreign visitors at the Beijing Horticulture Expo park in April. (JIN DAN/CHINA DAILY)
Special: Beijing int'l horticultural exhibition 2019
As a volunteer at the ongoing 2019 Beijing Horticulture Expo, 20-year-old Bian Peng, a sophomore majoring in Spanish at Beijing Foreign Studies University, was proud he could help visitors better understand the concept of living a green lifestyle.
He has been serving in the media center for the expo, which opened on April 28.
"From the wall of plants in the media center to the floral decorations here, I indeed learned how the green concept can be adapted into our real lives," Bian said, adding that the experience made him feel different - and meaningful.
During the expo's 162-day run, 20,000 volunteers from 47 higher education institutions, 60 companies and 16 districts will participate in operations and tourist services. Nearly 600 volunteers work at the venue every day. Each volunteer provides no less than seven consecutive days of service, according to Meng Xianqing, deputy head of the volunteer department at the event's coordination bureau.
Because the expo lasts for months, the organizer recruited 2,000 general volunteers and 150 professionals with skills in foreign languages, media and telecommunications. They'll be held in reserve for any emerging needs, he said.
Xu Qing, 25, began working as a volunteer in the expo park in the trial operation period, mostly in a booth near Gate No 3. It was his third time providing volunteer services for the expo.
Xu is a freshman from Century College at Beijing University of Posts and Telecommunications, 11 kilometers from the park in Yanqing district.
"Volunteers from our college commute by shuttle every day. We usually get up at 5:20 am and get on the shuttle at 6 am," he said, "but I feel more proud than tired here. Through our volunteer work, we are presenting Beijing's achievements in ecological development to the world."
Though brief, the interview with him was interrupted many times by a variety of inquiries from tourists passing by, reflecting the critical need for volunteers.
There are many such volunteers in the park who have received training to provide route guidance or first aid services and to introduce visitors to the pavilions. They have also learned how to deal with certain emergencies.
The expo serves as an ideal classroom for young volunteers, who can gain an understanding of President Xi Jinping's thoughts on ecological development and practicing green concepts for a beautiful China, Meng said.
Wang Wanlu, one of 100 volunteer representatives who attended the welcoming ceremony for State leaders, said: "I was really thrilled to watch the grand ceremony actually happening right before me. It inspired me a lot."
The 22-year-old is a senior majoring in landscape gardening at Beijing Forestry University and works as a volunteer near the United Arab Emirates pavilion.
"President Xi's speech will guide my academic life and career. He said we should pursue a scientific spirit in ecological governance, which I think is particularly meaningful for students in my major," she said.