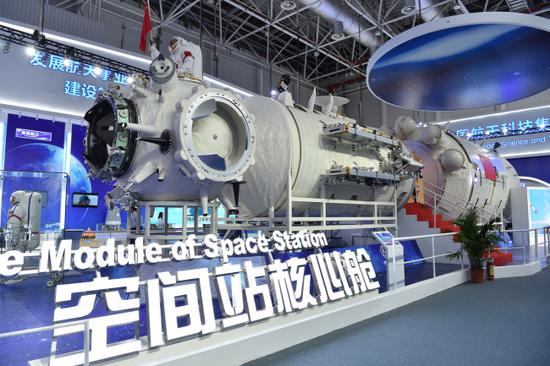 Photo taken on Nov 5, 2018 shows a full-size model of the core module of China's space station Tianhe exhibited at the 12th China International Aviation and Aerospace Exhibition (Airshow China) in Zhuhai, South China's Guangdong province. [Photo: Xinhua]
The Long March 5B carrier rocket is expected to make its maiden flight in the first half of 2020, according to Zhou Jianping, chief designer of the nation's manned space program.
The flight will also be the first of China's manned space station mission.
Zhou made the remarks Tuesday while attending an event celebrating this year's Space Day, Science and Technology Daily reported.
China has made steady progress developing and building the space station and tackled problems in key technologies, said Zhou.
The space station will be primarily composed of main module Tianhe (harmony of heavens), along with Wentian space lab one and Mengtian space lab two, each weighing 20 tons, said Zhou.
According to the plan, the space station program will include three phases: key technologies validation, construction and operation.
Long March 5B's first flight belongs to the key technologies validation phase, which includes six flying missions, while the construction phase will also feature six such missions.
When the space station becomes operational, Shenzhou manned spaceships will transfer astronauts while Tianzhou cargo spaceships will delivery supplies.