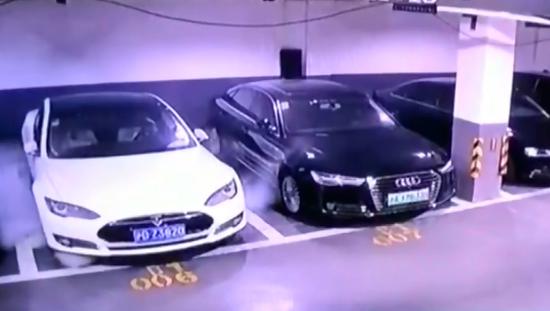 A video footage shows a Tesla vehicle parked in an underground garage in Shanghai, April 21, 2019. (Photo/Screenshot)
(ECNS) - An automobile expert said initial checks indicated a battery short circuit had caused the fire that engulfed a Tesla Model S in Shanghai on Sunday, The Paper reported.
Tao Wei, an expert in automobile defect investigation and appraisal with China's General Administration of Quality Supervision, Inspection and Quarantine (AQSIQ), added that there's no way to discover data because the car's battery and chip have been burned.
The check was undertaken at Tesla's Shanghai test center on Wednesday.
Tao said he's not sure when final results will be revealed.
The owner of the burnt Tesla car, surnamed Dong, said the car's chassis was not affected, so external reasons for the fire can be ruled out. He said he hopes to get compensation from Tesla and he's worried about the potential liability as two other cars were also damaged in the fire.
The Tesla vehicle burst into flames after spewing smoke in an underground garage in Xuhui District's Taide Garden community at about 8 p.m. on. April 21.