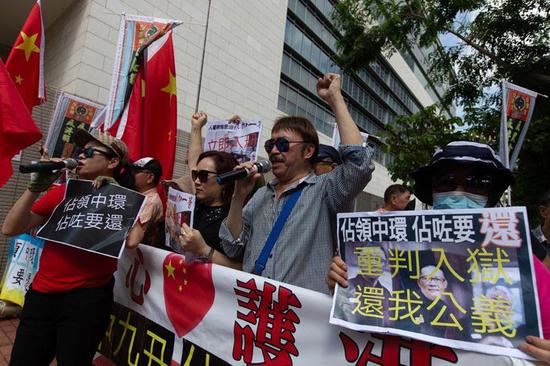 Residents carry placards to support jail sentences for leaders of the illegal "Occupy" protests outside West Kowloon Magistrates' Courts before it hands down the sentences on April 24, 2019. (ROY LIU / CHINA DAILY)
A district court in Hong Kong jailed on Wednesday ringleaders of the illegal "Occupy" protests for their roles in the protests that brought much of the city to a virtual standstill in 2014.
Judge Johnny Chan Jong-herng handed down the sentence at the West Kowloon Magistrates' Courts.
The three masterminds – Benny Tai Yiu-ting, Chan Kin-man and retired pastor Chu Yiu-ming – were sentenced to 16 months in prison for conspiracy to commit public nuisance. The sentence for Chu, 75, was suspended for two years due to his poor health and years of contribution to society.
Former Democratic Party lawmaker Lee Wing-tat was given eight-months, suspended for two years, for one count of incitement to commit public nuisance.
Another three convicted protesters - incumbent lawmaker Shiu Ka-chun, activist Raphael Wong Ho-ming and former student activist Chung Yiu-wa, were each given an eight-month jail term for incitement to commit public nuisance and incitement to incite public nuisance. The jail term for Chung, 26, was suspended for two years due to his young age.
Also convicted of the two charges, former student leader Tommy Cheung Sau-yin was ordered 200 hours of community service.
According to Article 79 of the Basic Law, lawmakers could lose their seats if being jailed for one month or more, once a motion to relieve them of their duties is passed by two-thirds of the Legislative Council members present.
They would also be deprived of the right to run for legislative elections for the next five years if the penalty exceeds three months' imprisonment, according to the Legislative Council Ordinance.
Sentencing of Civic Party legislator Tanya Chan Suk-chong is adjourned to June 10 after a brain surgery.
On April 9, the nine ringleaders were all found guilty of causing a public nuisance during the 79-day sit-ins between September and December 2014.
The protests, which drew thousands of demonstrators onto the streets, started as a way of opposing the SAR government's proposed reforms for the 2017 chief executive election. The protesters paralyzed the city's major business thoroughfares, inflicting huge losses on industries, particularly catering, hotel and tourism sectors.