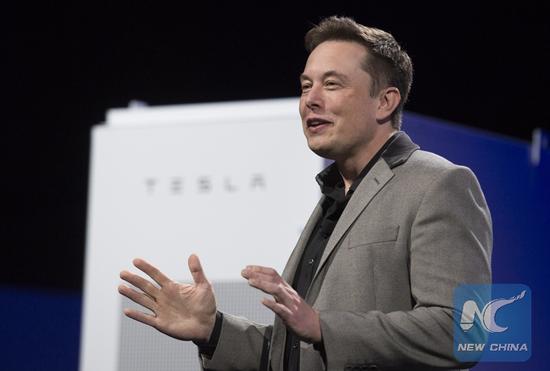 Elon Musk, CEO of Tesla, unveils a suit of batteries for homes, businesses, and utilities at Tesla Design Studio in Hawthorne, California, the United States, April 30, 2015. (Xinhua/Yang Lei)
Elon Musk, CEO of U.S. electric automaker Tesla Inc., will step down as chairman of the Tesla Board of Directors, and he and the company will pay 40 million U.S. dollars in fine under a settlement with the U.S. Securities and Exchange Commission (SEC), the commission said Saturday.
The SEC said that Musk, who will remain Tesla's CEO, agreed to settle the securities fraud charge it filed against him last week and quit Tesla board in 45 days.
The U.S. securities regulator Saturday also brought a charge against Tesla for failing to have required disclosure controls and procedures relating to Musk's tweets in August, in which he tweeted that he was considering taking the U.S. electric car maker private at 420 dollars per share.
In the SEC's complaint, the U.S. securities regulator said Musk knew that the potential transaction was uncertain and subject to numerous contingencies, but he had not discussed specific deal terms, including price, with any potential financing partners.
"His statements about the possible transaction lacked an adequate basis in fact," which was misleading and leading to significant market disruption as Musk's tweets caused Tesla's stock price to jump by over 6 percent on Aug. 7, said the SEC.
It said Musk will be replaced by an independent chairman after his resignation, and he will not seek re-election in three years under the settlement agreement.
Tesla will appoint a total of two new independent directors to its board, establish a new committee of independent directors and put in place additional controls and procedures to oversee Musk's communications, the SEC said.
Musk and Tesla will pay 20 million dollars in penalty each, and the total 40 million-dollar sum will be distributed to harmed investors under a court-approved process, it added.
"The total package of remedies and relief announced today are specifically designed to address the misconduct at issue by strengthening Tesla's corporate governance and oversight in order to protect investors," said Stephanie Avakian, co-director of the SEC's Enforcement Division.
Steven Peikin, also co-director of the SEC's Enforcement Division, said the resolution is intended to prevent further market disruption and harm to Tesla's shareholders.