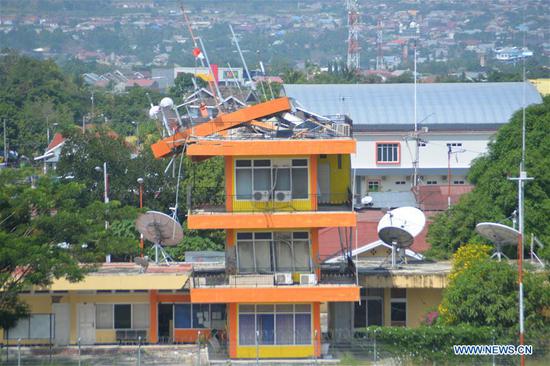 Photo provided by the Indonesian Air Force shows a damaged air navigation tower in Palu, Central Sulawesi province, Indonesia, Sept. 29, 2018. (Xinhua/Indonesian Air Force)
Jakarta police Saturday said that at least 410 people were killed after the powerful earthquake and tsunami hit Sulawesi island in Indonesia on Friday.
The disaster has also left 540 people injured, according to Sutopo Purwo Nugroho, spokesman for Indonesia's disaster mitigation agency
A tsunami up to two meters (six feet) high swept through Palu, home to around 350,000, on Sulawesi island at dusk after the tourist resort was rocked by the 7.5-magnitude earthquake with a depth of 10 kilometers.
"Bodies of victims were found in several places, because they were hit by the rubble of collapsing buildings or swept by the tsunami but we are still collecting data," said Sutopo Purwo Nugroho.
Videos on social media show people screaming and fleeing in panic among the collapsed buildings.
The quake and tsunami caused a power outage that cut communications around Palu. On Saturday, authorities were still having difficulties coordinating rescue efforts without power and communications as the area was rocked by aftershocks.
The main airport in Palu was shut after the tsunami struck and was expected to stay closed for at least 24 hours.
Indonesia sits on the Pacific Ring of Fire, which is the line of frequent quakes and volcanic eruptions that circles the entire Pacific Rim.
In August, a series of major quakes killed over 500 people in the tourist island of Lombok and destroyed dozens of villages along its northern coast.