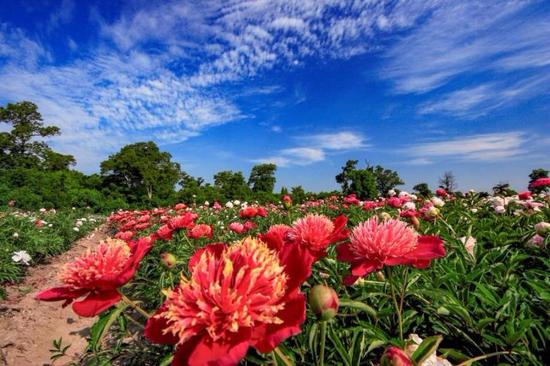 Peony flowers are in full bloom in the peony park of Baoma village at the foot of Changbai Mountain, Jilin province. (Photo by Sun Mingsheng/For chinadaily.com.cn)
By 2020, China could wake up to clearer skies, and a greener environment. That's according to the nation's top environmental authorities in a new three-year action plan.
The Chinese government has just approved a three-year action plan aimed at cleaning the nation's air. The plan focuses on China's most heavily-polluted areas, and developing a greener economy across the country. CGTN reporter attended the State Council presser on the "Battle for Blue Skies" on Wednesday.
The authorities expect that within two years, total emissions of sulfur dioxide and nitrogen oxide will decrease more than 15 percent compared with 2015 levels. They also say PM2.5 will drop by more than 18 percent. Meanwhile, cities will enjoy "good" quality air days for about 80 percent of the year.
Such ambitious targets require the government to take decisive action, focusing on three key regions, namely the Beijing-Tianjin-Hebei region, the Yangtze River delta as well as Fenwei plain along the Yellow River.
"The Beijing-Tianjin-Hebei region still remains the most heavily polluted, despite making tremendous progress in the past five years. Following that, the Fenwei plain ranks second, with coal-mine burning being its major pollutant," said Zhao Yingmin, vice minister of ecology and environment.
"Then third is the northwestern part of Yangtze River delta. But the Pearl River Delta, including Guangzhou and its surrounding areas, now meets air-quality standards, and is no longer on our watch list," he added.
Green development is another priority of the new action plan, especially in terms of industry, energy, transportation and land use. Strong efforts will be made to cut overcapacity, promote clean heat for the northern region, and phase-out aging vehicles and vessels. In order to truly implement these measures, supervision is paramount, Zhao said.
"We have found that some enterprises only follow environmental regulations when there is an inspection. Some even falsified monitoring data to make emission levels show a negative reading. In recent inspections, we are dealing with these issues and will enhance responsibilities of enterprises and local government so as to conduct the targeted pollution control," added Zhao.
The term "battle for blue skies" first appeared in Premier Li Keqiang's Government Work Report in March of 2017. Though the fight could still be challenging, the new action plan, along with existing regulations show China's determination to win the battle.