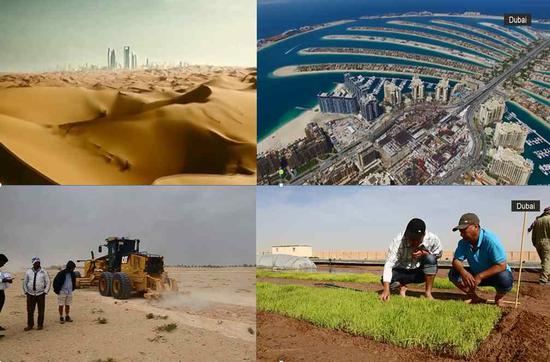 The Qingdao R&D Center planted sea rice in Dubai under bad desert conditions. /CGTN Photo
Salt in the soil has always made it almost impossible to grow crops such as rice. But that's now changing.
The "Qingdao Sea Rice Research and Development Center" led by Yuan Longping, the father of China's hybrid rice, is creating a miracle – saline-alkali tolerant rice. It succeeded in growing the new rice in coastal regions like east China's Qingdao City and in desert areas as far away as Dubai, growing the two countries' bond stronger.
Executive Director Liu Jiayin noted that the center was established in Qingdao in 2016 because it's a coastal city. It's easy to take seawater and dilute it and desalinate it for irrigation at the experimental base there.
They use a constant level of salinity to select strains that are more suitable to grow on saline-alkali land, that's why people call it "sea rice".
Li Jiming, one expert from the R&D Center noted that choosing the right seeds is important. By planting hybrid rice on saline-alkali land, researchers can find out if the rice has salt-tolerant genes. They then put those genes into the new seeds, which gives the new sea rice the advantages of hybrid rice, and the feature of saline-alkaline tolerance as well.
Last year, four strains of rice that performed well were selected from 160 strains for planting. The yield reached about 9.3 tonnes per hectare by irrigation with 0.6 percent of salinity. Since May, Yuan's team has been set up experimental demonstration bases in six different saline-alkali regions in China, namely Daqing, Dongying, Qingdao, Wenzhou, Yan'an and Kashgar.
Liu said China now has 22.5 billion hectares of saline-alkali land, and the center's plan is to transform 1.5 billion hectares of saline-alkali land for rice cultivation in the country, which can produce a further 30 billion kilograms of rice per year to feed 80 million people.
Dubai's desert provides tough conditions, with low organic matter and seawater at 7.5 meters underground. But researchers from China and the UAE have achieved initial success in their experiments.
With technologies like the Internet of Things and soil directional regulators, the predicted yield of the best sea rice variety in Dubai has already reached about 7.8 tonnes per hectare, evaluated by the International Rice Research Institute and experts, which means the first phase of planting sea rice is done there.
In September, the development of the new rice will enter its second phase: selecting stable rice varieties, and promoting new cultivation of a 10-hectare area in Dubai, aiming to one day turn the desert region into an oasis.