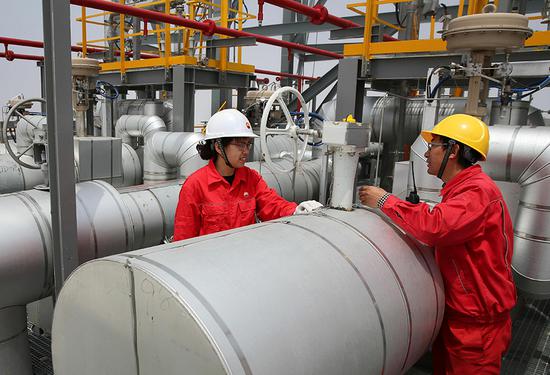 Technicians check liquefied natural gas facilities in Nantong, Jiangsu province. (Photo by Xu Congjun/For China Daily)
The six central SOEs are China South Industries Group Co Ltd, Sinopec Group, China Huaneng Group Co Ltd, China Huadian Corp Ltd, China State Construction, and China Railway Construction Corp Ltd.
As per the liability certificate, the central SOEs will need to diligently implement the central government's efforts to reduce leverage and cut debt ratio and create a solid foundation to prevent and resolve major risks.
"Debt levels at central enterprises have declined and been effectively controlled in recent years," said Xiao Yaqing, head of the State-owned Assets Supervision and Administration Commission of the State Council.
"By the end of last year, total assets of central SOEs amounted to 54.5 trillion yuan ($8.23 trillion), and their average debt ratio was 66.3 percent, down 0.4 percent on a yearly basis," he said.
The SASAC has set a target of reducing the average debt-asset ratio of central SOEs by 2 percentage points prior to 2020.
"During the first six months, China's SOEs had achieved good results, in terms of their economic and incremental benefits," said Li Jin, chief researcher at the China Enterprise Research Institute.
"From January to May, SOE profits rose 20.9 percent, with the growth and profit rate up 10.2 percent and 10.7 percent respectively." Li said that the major reason behind this is cost cutting, which is directly related to the reduction of financial leverage.
"Between January and April, the debt-asset ratio of industrial enterprises above the designated size was 56.5 percent, 0.7 percent lower than the same period last year. The debt ratio of SOEs dropped 1.5 percent to 59.5 percent. The decline rate is relatively high. This year, reducing leverage is the top priority and SOEs are doing a good job currently," he said.
According to Xiao, to further reduce liabilities and prevent risks, the regulators should set up debt rate warning lines for various types of enterprises, including industrial, non-industrial and science and technology central SOEs. At the same time, each SOE would need to undertake the main responsibilities for the efforts and set control indicators to ensure that the overall liability declines steadily. In addition, they should also set up an assessment mechanism.
Apart from reducing leverage and liabilities, efforts should also be made for incremental economic benefits. According to Xiao, it is necessary to supplement equity capital through multiple channels to further enrich the capital. "This year, we will also revitalize assets, highlight the real economy and main business. In addition, we must strictly control various risks, especially overseas investment risks, to further reduce the debt ratio and total debt, and keep risks at the minimum level."
Many central SOEs have already formulated detailed deleveraging plans and set concrete targets, with debt-for-equity swaps and the expansion of equity financing at the core of their efforts.
Li said that SOEs are qualified to meet SASAC's target of reducing the average debt ratio by 2 percent by 2020. "Last year, central SOEs removed a total of 1,200 zombie enterprises and companies in dire straits. The 'zombie capacity' cut in the steel industry reached 5.95 million metric tons, and that in the coal industry was 27 million tons. We can see that the central government's deleveraging efforts have made significant progress."