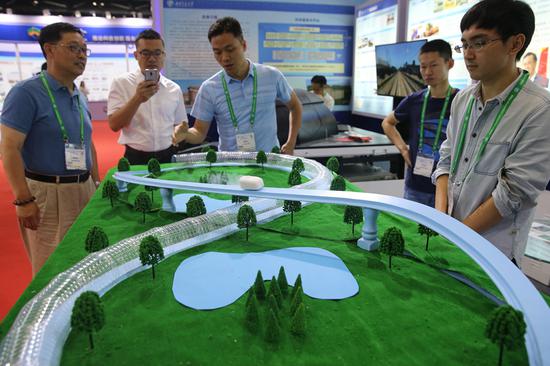 Visitors observe the model of a superconducting tube maglev at the 2018 World Transport Convention in Beijing on Tuesday. (WANG JING/CHINA DAILY)
China is building a high-tech tube transportation system to test methods of carrying commuters and cargo at "ultrafast" speeds by scrapping the wheels and using magnetic levitation, a scientist said on Tuesday.
Similar to Elon Musk's hyperloop maglev model, the system will initially be tested at speeds of up to 1,500 km per hour, according to Zhang Weihua, a professor at Southwest Jiaotong University in Chengdu, Sichuan province, who spoke during a forum at the 2018 World Transport Convention in Beijing.
It will run inside a virtually air-free tube to reduce resistance. Once it has been completed - in less than three years, Zhang said - all kinds of ultrahigh-speed maglev transportation tests can be carried out, such as high-and low-temperature superconducting maglevs.
The prototype was built at one-tenth scale of the planned full-size train, he said.
While a commercial system remains a future goal, Zhang and his team have been making significant progress recently and may even break a world speed record this year.
The research team is building a test line for a high temperature superconducting maglev train in Chengdu. The train, which will operate in a vacuum tube, is expected to undergo engineering tests this year, with speeds reaching 400 km/h, which would be a new global record for its type.
The current record is held by a US company, Hyperloop One, which logged a speed of 387 km/h in December.
Elon Musk, CEO of SpaceX and Tesla, who introduced the hyperloop concept in 2013, said he was working to build an ultrafast transportation system that will eventually travel at a speed of 1,200 km/h - from Los Angeles to San Francisco in 35 minutes.
Other developed countries, such as France and Japan, are also speeding up their research on ultrafast trains.
"Speed has become the focus of competition," Zhang said.
China has commercial bullet trains that currently operate at a top speed of about 350 km/h between Beijing and Shanghai. A conventional train that can reach 400 km/h is in the research phase, Zhang said.
However, due to friction and noise, the speed of a wheeled train is hard to push higher than 600 km/h, he said, adding that maglev is the future of ultrafast trains.
The world's fastest commercial maglev train, the Transrapid - which was engineered in Germany - runs on the Shanghai Pudong International Airport Maglev Line, but it runs in the open air and has a maximum operating speed of just 430 km/h - fast, but not ultrafast.
As of the end of 2017, China's high-speed railway network had reached 25,000 km, accounting for nearly two-thirds of the world's total. The nation's railway network spans 127,000 km.