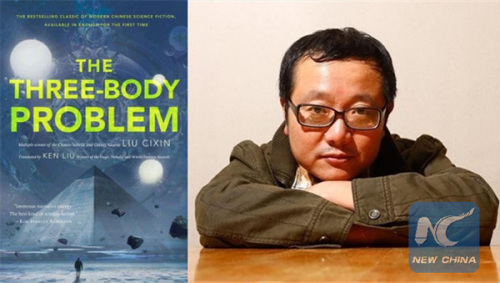 In 2015, sci-fi writer Liu Cixin became the first Chinese author to take home the Hugo Award for Best Novel. (Photo/Xinhua)
The Hugo Award-winning Chinese science fiction trilogy popularly known as "The Three-Body Problem" may be made into a dramatic television series by Amazon, reported the Financial Times yesterday.
The report revealed that as investors are eager for a piece of the Chinese entertainment market, Amazon is in talks that will probably "result in its earmarking U.S.$1 billion to acquire the rights to produce three seasons of episodes" based on the "Remembrance of Earth's Past" trilogy by Liu Cixin.
Some mainland industry insiders predict that "The Three Body Problem" will prove an even bigger blockbuster than "Game of Thrones," reported the publication.
Amazon Studios, a subsidiary of Amazon that focuses on developing television series and distributing and producing films and comics, was launched in late 2010. Beginning in 2013, Amazon.com began distributing original television programs through its Amazon Video streaming service.
Amazon's interest in making "The Three-Body Problem" has excited many sci-fi fans since the spread of Thursday's news. The rights to the series are currently held by Lin Qi, the chairman of Youzu Interactive, an online game developer also wanting to expand its reach in the film business.
Youzu had been developing a separate film based on the novel since 2015, on a budget of 200 million yuan (U.S.$31.64 million), helmed by a critically panned horror B-movie director Zhang Fanfan and starring Feng Shaofeng and Zhang Jingchu. The film was at one time scheduled to be released in 2017 in 3D, but due to internal strife and rumored "bad quality," the project was postponed and has not been heard of since.
"The Three Body Problem," the title of the first volume in Liu's "Remembrance of Earth's Past" trilogy, has enjoyed enormous popularity in China and overseas—so much that the single title was popularly adopted as the moniker for the entire trilogy. Its English translation by Ken Liu, a Chinese American sci-fi writer and translator, won the Hugo Award for Best Novel in 2015, the highest honor in the sci-fi world, and was even recommended by then-U.S. President Barack Obama.
The subsequent books in the trilogy—"The Dark Forest" and "Death's End"—also received critical acclaim and commercial success, while the latter was again nominated for the 2017 Hugo Award for Best Novel, though it lost out to N. K. Jemisin's "The Obelisk Gate."
The three-part saga, which depicts the human race's contact and conflict with an alien civilization, has sold more than 7 million copies in Chinese and about 700,000 English copies as of the end of 2017. It has been translated into more than 10 other languages as well as English, including Spanish and German, according to China Educational Publications Import and Export Corporation, Ltd.