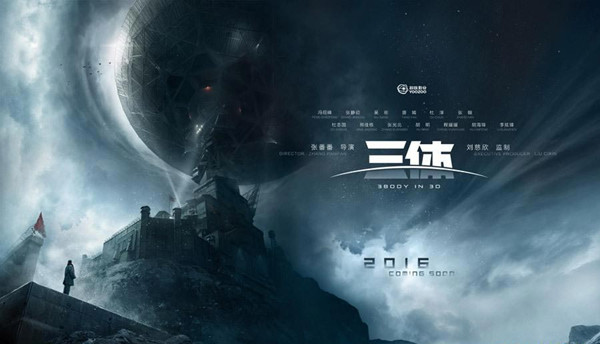 The poster depicts the secret military base in China. (Photo/Xinhua)
The Three-Body Problem is an upcoming Chinese 3D science fiction film, based on the novel of the same-title.
The original fiction has attracted global attention after winning the Hugo Award for Best Novel last month. It was also nominated for the 2014 Nebula Award for Best Novel.
Ye Wenjie, played by Chinese actress Zhang Jingchu, is a scientist routinely working in the secret military base. (Photo/Xinhua)
The Three-Body Problem tells a story during China's cultural revolution (1966-1976), when a secret military project sent signals to outer space.
Trisolarans, the aliens whose civilization nears destruction, received the signals and decided to invade the Earth. Humans on earth must decide whether to fight back against the intruders or welcome them to control the already rotten world.
Wang Miao, played by Chinese actor Feng Shaofeng, is an expert on nanomaterials technology. (Photo/Xinhua)
The original novel, written by Chinese writer Liu Cixin, is the first installment of Liu's trilogy--Remembrance of Earth's Past, first published in a magazine in 2006. It also received the Chinese Science Fiction Galaxy Award the same year.
An English translation by Ken Liu was published in 2014.