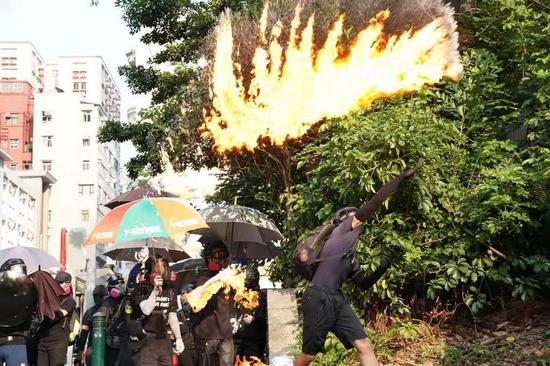 Rioters throw petrol bombs near the Tsim Sha Tsui police station in Hong Kong, south China, Oct. 20, 2019. (Xinhua)
Petrol bombs and bricks rained again in Hong Kong Sunday afternoon as black-clad, masked rioters went on rampage to renew violence that has plagued Hong Kong for more than four months.
Mobsters firebombed the Tsim Sha Tsui police station, trashed mulitiple metro stations, committed arson and vandalized public and private facilities in Hong Kong's Kowloon, soon after a large number of masked people, mostly dressed in black, ignored police objection and staged an unauthorized demonstration at 1:30 p.m. local time.
At Tai Po, the police intercepted two suspicious vehicles carrying a large number of offensive weapons, including 42 petrol bombs and 16 tanks of paint near Sunday noon. Two suspects, aged 31 and 34 respectively, were arrested, according to the police.
As violence escalated at around 3:00 p.m., rioters attacked police officers with petrol bombs and bricks, smashed ATM machines and other facilities of bank outlets, trashed stores operated by people who disagreed with them.
They also built road barricades and set fires to the exits of multiple stations of the Mass Transit Railway (MTR).
The black-clad people spray-painted insulting words, vandalized and hurled petrol bombs into Mong Kok, Yau Ma Tei and Austin MTR stations. Some rioters prized open the metal gate of a restaurant on Waterloo Road and trashed the restaurant. They also broke into banks on the Carnarvon Road and Nathan Road and set fires there.
Many masked thugs used umbrellas to cover their vandalism and violent acts.
In response to the violence, the Hong Kong police fired tear gas, used the specialized crowd management vehicle and other minimum force necessary to disperse rioters along the Nathan Road, while fire fighters arrived to extinguish the fires.
Police urged the rioters to stop their illegal acts immediately, saying other participants were committing the offence of "participating in an unauthorized assembly."
Traffic on several roads in Tsim Sha Tsui has been seriously disrupted, and at least two shopping malls and most stores at the Chungking Mansions near the once-popular tourist areas were forced to close.
Due to safety concerns, the MTR, operator of Hong Kong's railway network, was forced to shut down multiple stations.
The report room services of the Tsim Sha Tsui police station was suspended.
Rioting and violence have engulfed Hong Kong over the past four months, particularly during the weekend, as black-clad, masked radicals and rioters repeatedly went on the rampage to attack police officers, vandalize public and private properties, and commit arson or beat up people who disagreed with them.