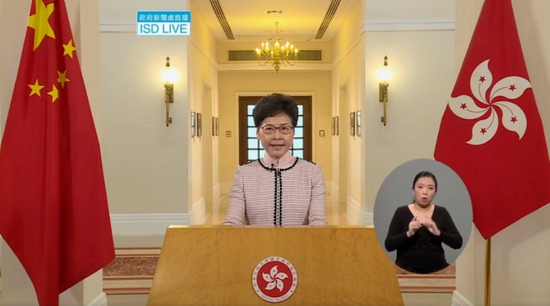 HKSAR Chief Executive Carrie Lam delivers her 2019 Policy Address through video on Oct. 16, 2019. (Credit: www.news.gov.hk)
Carrie Lam, Chief Executive of China's Hong Kong Special Administrative Region (HKSAR), on Wednesday announced a raft of short- and medium-term support measures to tackle the housing woes of Hong Kong, whose houses are among the least affordable in the world.
The measures, announced in the 2019 Policy Address, included "substantially" increasing the number of transitional housing projects, offering cash allowance, assisting first-time home buyers, among others.
"Housing is the toughest livelihood issue facing Hong Kong society. It is also a source of public grievances. I have never taken this matter lightly," Lam said in the address.
She said 10,000 transitional housing units will be provided in the next three years. And government provision set aside for transitional housing will be increased to 5 billion HK dollars (637 million U.S. dollars), up from the previously announced 2 billion HK dollars (260 million U.S. dollars).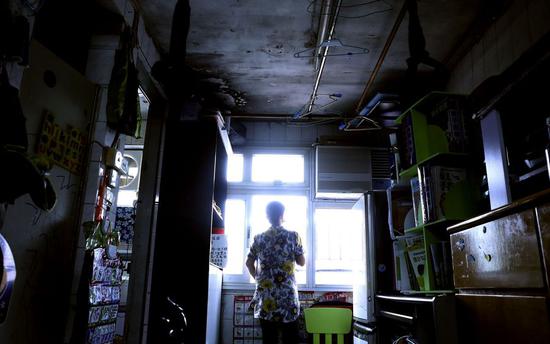 Wong, who prefers going by an alias, stands in her 37-square-meter public rental house in Choi Hung, Kowloon of south China's Hong Kong, Sept. 17, 2019. (Xinhua/Luo Huanhuan)
The HKSAR government will also press ahead with the youth hostel projects that cater for the short-term accommodation needs of young people, with two projects providing 1,760 units to be completed in the coming two years.
Cash allowance will be issued to low-income families neither living in public renting houses nor receiving Comprehensive Social Security Assistance (CSSA), according to Lam.
Public renting housing (PRH) and the CSSA are pillar relief programs of the HKSAR government targeting the group of poverty-stricken population. But there is a sizable cohort of low-income earners who are not qualified to receive such benefits.
Other policies include accelerating the sales of unsold discounted flats and benefiting first-time buyers with more favorable mortgage loans, Lam announced.