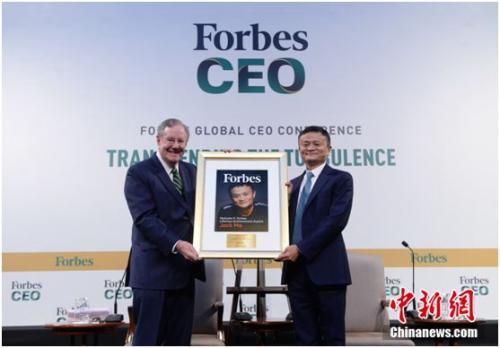 Alibaba's former executive chairman Jack Ma (R) receives a reward at the Forbes Global CEO conference 2019 in Singapore, on Oct. 15, 2019. (Photo/China News Service)
(ECNS) - Jack Ma, founder of e-commerce giant Alibaba Group Holding, was awarded the Forbes Lifetime Achievement award at the Forbes Global CEO Conference held in Singapore on Tuesday.
Having stepped down as Alibaba's chairman in September, Ma said he is proud of helping build a credit system to help people and small businesses. He called for the financial system of the 21st century to be inclusive and empower people.
Ma won the honor for his dedication to promoting entrepreneurship across the world and helping a whole generation to progress by using the Internet.
Seven business leaders won the award in 13 years since its launch, with Ma the first from the Internet sector.
He said global trade will increasingly rely on Internet in the future, giving small enterprises and young people more opportunity to do business across borders.