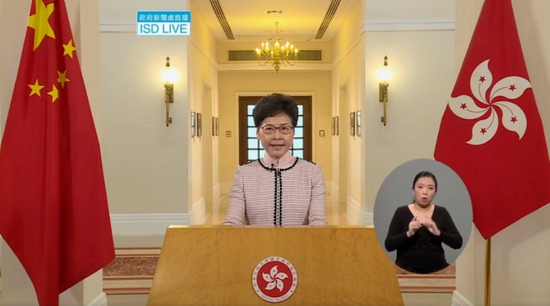 HKSAR Chief Executive Carrie Lam delivers her 2019 Policy Address through video on Oct. 16, 2019. (Credit: www.news.gov.hk)
Chief Executive of China's Hong Kong Special Administrative Region (HKSAR) Carrie Lam on Wednesday brought about over 220 new initiatives focusing on improving people's livelihood and promoting economy in her 2019 Policy Address.
The initiatives cover four major areas:
1. Tackling housing woes: more transitional housing, cash allowance and assisting first-time home buyers.
2. Multi-pronged strategy to "persistently" increase land supply.
3. Improving people's livelihood: more spending, closer cross-sector cooperation, principles of pro-child, pro-family, pro-work, respecting choices of beneficiaries, and embracing public health.
4. Economic development: support for traditional pillar industries, promoting innovation, deeper integration with the mainland, exploring more overseas markets to ensure sustained economic growth.