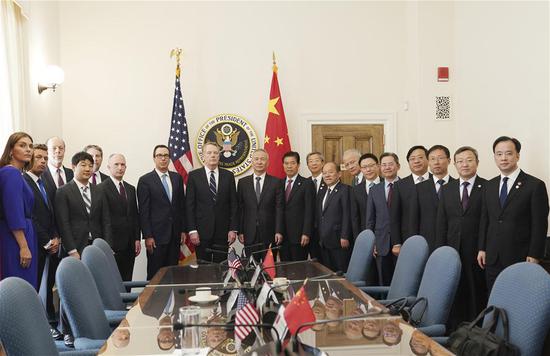 Chinese Vice Premier Liu He, also a member of the Political Bureau of the Communist Party of China Central Committee and chief of the Chinese side of the China-U.S. comprehensive economic dialogue, attends a new round of high-level economic and trade consultations together with U.S. Trade Representative Robert Lighthizer and Treasury Secretary Steven Mnuchin in Washington D.C., the United States, Oct. 10, 2019. (Xinhua/Liu Jie)
Noting that China-U.S. economic and trade relations are very important and have a strong global spillover influence, Chinese Vice Premier Liu He said the Chinese side has come to the trade talks with great sincerity and is willing to make serious exchanges with the U.S. on issues of common concern, such as trade balance, market access and investor protection, while promoting positive progress in the consultations.
Liu made the remarks in a meeting with Craig Allen, president of the U.S.-China Business Council, Myron Brilliant, executive vice president and head of International Affairs at the U.S. Chamber of Commerce, and International Monetary Fund (IMF)'s new chief Kristalina Georgieva on Thursday in Washington.
Allen and Myron both said that there are no winners, but only losers in a trade war, and the U.S. businesses least of all want to see any tariffs.
They said that they sincerely hope that there will be clear progress through the new round of trade negotiations, and the two countries will increase mutual trust and lay a good foundation for further negotiations.
While meeting the new head of IMF Kristalina Georgieva, Liu said that the new round high-level trade negotiations attracted a lot of attention from different parties, and it's the world's common expectation that the trade war would be stopped.
Liu said that China is willing to reach consensus on issues that concerns both China and the U.S. through this round of negotiations based on equal and mutual respect, to prevent further escalation and expansion of the conflicts. China hopes that international society will make a joint effort to maintain global stability and prosperity.
Georgieva said that trade war is causing severe economic impacts on the world. According to the IMF's estimates, the trade war will drag the global economy down by 0.8 percentage points by 2020.
The IMF complimented China's determination and sincerity in solving conflicts through negotiations, said Georgieva, and it is willing to continue to play its role in preserve the multilateral system and free trade rules.