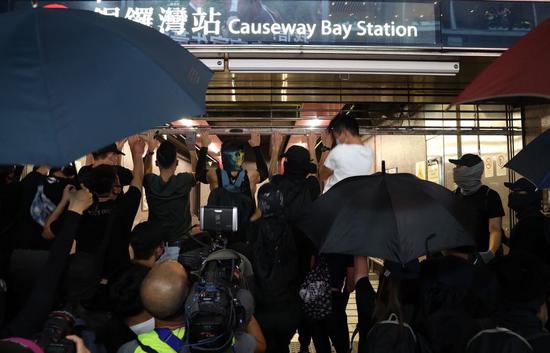 Rioters trash the metro station at Causeway Bay in Hong Kong, south China, Oct. 4, 2019. (Xinhua)
Officials of the government of China's Hong Kong Special Administrative Region (HKSAR) on Thursday disclosed more facts and figures about the destruction by rioters as months of violence has severely impacted Hong Kong from macro economy to people's daily life.
Speaking at a press conference, Secretary for Transport and Housing Frank Chan said the transport network has suffered major disruption, with traffic lights damaged and railings dismantled.
More than 400 of Hong Kong's altogether over 2,000 sets of traffic lights were damaged, triggering safety hazards to drivers and pedestrians especially the aged and disabled residents, Chan said.
About 42,000 meters of roadside railings were demolished, more than 2,600 square meters of pavement destroyed, and more than 1,700 public road facilities defaced, Chan said.
The metro lines and stations have been the major target of rioters, with the railway services forced to suspend for times during the past week, and a total of 1,200 gate machines, 1,200 ticket machines, 900 closed circuit televisions and 40 escalators vandalized, Chan said, adding signal systems and control rooms were also destroyed.
Secretary for Home Affairs Lau Kong-wah revealed that six government buildings were damaged with arson and vandalism. Public facilities in those buildings including baby care rooms, dental clinics and special child care centers were also targeted by rioters.
More young people were involved in violent acts. Of all 2,379 people arrested during the past months, about 750 were under the age of 18.
Matthew Cheung, Chief Secretary for Administration, said the figures were shocking and called on parents, teachers and all sectors of the community to help young people stay away from violent acts for their safety and future.
During the conference, officials urged radical protesters to resume reasonable and stop violent acts and also appealed to all Hong Kong residents to work together and push Hong Kong back on track as soon as possible.