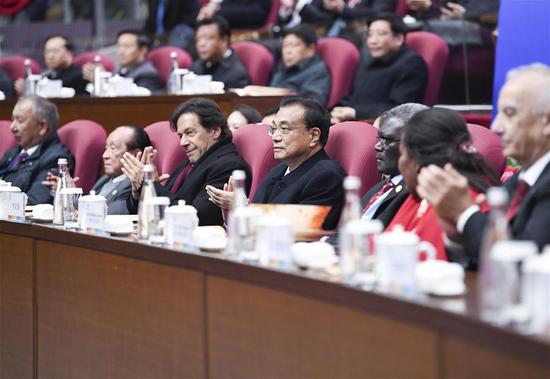 Chinese Premier Li Keqiang and foreign leaders watch a performance as the International Horticultural Exhibition 2019 Beijing concludes in Yanqing District of Beijing, China, October 9, 2019. (Photo/Xinhua)
Special: Beijing int'l horticultural exhibition 2019
Chinese Premier Li Keqiang declared the International Horticultural Exhibition 2019 Beijing officially concluded on Wednesday evening, describing the expo as "spectacular" and "fruitful."
In his address at the closing ceremony, Li said the expo - which had the theme of "Live Green, Live Better" - celebrated achievements in green development around the world and showcased cutting-edge green technologies.
"Nearly 10 million visitors from China and abroad have seen with their own eyes how environmental protection and development boost each other and how humans and nature coexist in harmony," Li told the audience.
Noting that the People's Republic of China celebrated the 70th anniversary of its founding a few days ago, he stressed that the country has made "historical progress in the construction of an ecological civilization."
China has contributed to a quarter of the total increase in the global green leaf area since the beginning of this century, he added.
"China remains the biggest developing country in the world," Li said, vowing that it will pursue high-quality development and first-class environmental protection in the course of reform and opening-up.
The country has committed to the path of green development by accelerating the shift in its growth model and boosting the development of energy-saving and environmentally friendly industries, said the Chinese premier.
He reiterated that China will actively implement the Paris Agreement on climate change, adding that Beijing is willing to help other developing countries realize sustainable development.
Li called for joint efforts from the international community to enhance harmony between humans and nature and build a better world for future generations.
Foreign leaders attending the closing ceremony included the Solomon Islands' Prime Minister Manasseh Sogavare, Pakistan's Prime Minister Imran Khan, Kyrgyzstan's First Deputy Prime Minister Kubatbek Boronov, Azerbaijan's Deputy Prime Minister Hajibala Abutalybov and Cambodia's Deputy Prime Minister Hor Namhong.
Li and the foreign leaders visited some of the parks at the expo ahead of the closing ceremony.
Sprawling over an area of 503 hectares, the expo opened to the public on April 29 in Beijing's northern suburban district of Yanqing. It brought together exhibitors from 110 countries and international organizations, as well as more than 120 unofficial exhibitors for indoor displays and outdoor gardening.