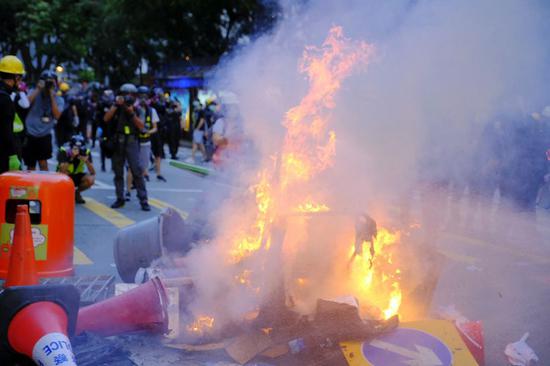 Rioters set fire in Wan Chai of Hong Kong, south China, Sept. 15, 2019. (Xinhua)
Hong Kong police on Monday strongly condemned violent acts during unlawful assemblies in several places around Hong Kong a day before.
Updated at 10:50 a.m. BJT, Monday
Hong Kong police condemned violent acts during unauthorized rallies on Sunday. Protesters blocked roads, hurled petrol bombs at the Central Government Offices and at police officers, and set multiple fires including at Wan Chai MTR station.
"The police severely condemn such violent acts. Radical protesters escalated their violent acts and have no regard to the laws of Hong Kong," the police said in a press release issued on Monday morning, vowing to continue to take resolute enforcement actions to safeguard the city's public safety and bring all lawbreakers to justice.
Updated at 6:40 p.m. BJT, Sunday
Protesters set fire to Wan Chai MTR station as public facilities have again become their target. Firefighters are at the scene to extinguish the fire.
Updated 6:20 p.m. BJT, Sunday
Hong Kong police dispersed violent protesters taking part in an unauthorized assembly near the city's Central area on Sunday afternoon.
The police on Twitter said demonstrators have resorted to violent acts as they marched from Causeway Bay area to Central area. They obstructed traffic, set multiple fires, and damaged metro stations. They also vandalized the Central Government Complex, digging up bricks from the pavement and hurling petrol bombs and hard objects.
"The officers are now conducting a dispersal operation with the use of tear gas," Hong Kong police said on Twitter, asking members of the public to avoid the area.