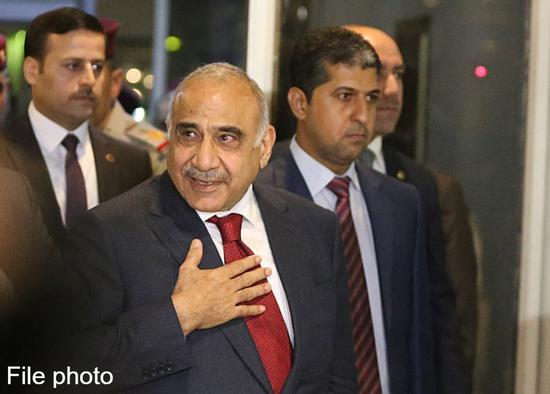 Adel Abdul Mahdi arrives at the parliament in Baghdad, Iraq, on Oct. 24, 2018. (Xinhua)
An Iraqi politician said that the Iraqi Prime Minister Adel Abdul Mahdi's upcoming visit to China will contribute to "a quantum leap" in bilateral relations.
Raed Fahmi, secretary of the Central Committee of the Iraqi Communist Party, told Xinhua that "the visit may open the door for signing agreements to improve the level of cooperation between China and Iraq that could have strong effects."
"Such agreements could help Iraq to meet the requirements of development, especially in the development of infrastructure, including roads and bridges," said Fahmi, who is also a member in the Iraqi parliament.
The Chinese Foreign Ministry announced on Thursday that Abdul Mahdi will pay an official visit to China from Sept. 19 to 23 at the invitation of Chinese Premier Li Keqiang.
The relations between Iraq and China have developed in political and economic fields, and there is good cooperation with major Chinese companies in the oil sector as well as in other sectors, according to Fahmi.
"Today, we know that this visit is aimed at creating a qualitative and quantitative leap in the relations to help Iraq face the challenges to improve its economy through building its infrastructure," Fahmi added.
Fahmi believed that Abdul Mahdi will put forward ideas that would deepen the cooperation between the two countries through strategic projects in various fields.
"As far as I know, a number of agreements will be signed during this period and a joint fund may be set up to give this cooperation a success," Fahmi said.
Iraqi people welcome the development of Iraqi-Chinese relations and see them as useful, he added.
According to Iraqi media report, Abdul Mahdi will head a large delegation, including ministers, advisors and businessmen, to visit China in order to discuss several issues, including the mega projects in fields of roads, education and health.
Earlier this month, al-Sabah newspaper quoted China's Ambassador to Iraq Zhang Tao as saying that the "Chinese side attaches great importance to developing relations with Iraq, and looks forward to seizing the opportunity of this visit to make joint efforts hand in hand with the Iraqi side to further consolidate and deepen Sino-Iraqi relations."
The volume of the trade exchange between China and Iraq exceeded 30 billion U.S. dollars in 2018, according to Zhang, asserting that "China is the biggest trading partner of Iraq, and Iraq is the second biggest oil supplier to China, and the fourth biggest trading partner of China in the Middle East."