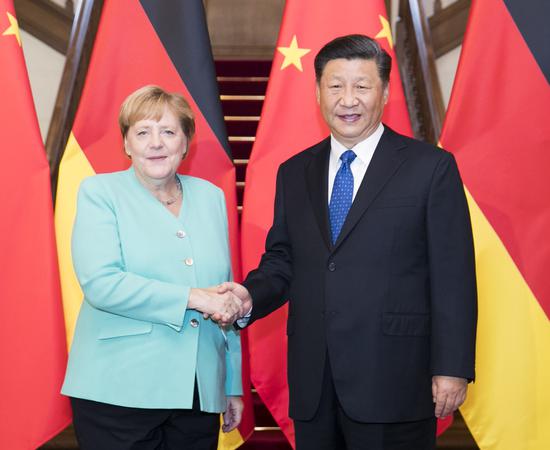 President Xi Jinping greets German Chancellor Angela Merkel in Beijing on Friday. (Photo/Xinhua)
President tells Merkel expansion of economic links helps both nations
President Xi Jinping stressed the importance of making the cake of China-Germany cooperation even bigger on Friday as he pledged further opening-up to the country's financial and service sector.
Xi said in a meeting with German Chancellor Angela Merkel that the Chinese market is large, and will become even larger with its development, which will bring about more opportunities for countries including Germany.
He said that the two nations signed a substantial number of trade agreements during Merkel's visit, which is evidence that China has honored its commitment to expand its opening-up.
He urged both countries to remain forward-looking and step up cooperation in emerging areas including self-driving technology, new-energy vehicles, smart manufacturing, artificial intelligence, digitalization and fifth-generation communications technology.
In an age of mounting challenges and risks, no country can remain immune as unilateralism and protectionism threaten world peace and stability, he said.
It is more necessary than ever for China and Germany, as two responsible major countries, to step up strategic communication, coordination and cooperation and jointly cope with the common challenges faced by mankind, he said.
Xi called on both nations to uphold mutual respect, dialogue and coordination, respect each other's development path and accommodate respective core interests.
He also welcomed German participation in the building of the Yangtze River Economic Belt, noting that on Saturday, Merkel is visiting Wuhan, capital of Hubei province and a key hub for the economic belt's development.
Xi also highlighted the importance of enhancing the foundation of people-to-people exchanges between the two nations.
The two nations should jointly assume responsibility for defending international fairness and justice, safeguarding free trade and multilateralism and bolstering cooperation in areas such as coping with climate change and cooperation with Africa, he added.
Merkel, on her 12th visit to China, said Germany is glad to have benefited from China's further opening-up policy, and it is willing to continue expanding investment in China.
Unilateralism and protectionism are also having adverse effects on Germany, and all differences and frictions should be solved through dialogue and coordination, she said.
Premier Li Keqiang said in his meeting with Merkel earlier Friday that China hopes Germany will also keep its markets open, reduce restrictions on technology exports for civilian use and offer Chinese companies equal treatment in investment scrutiny and market access.
Li also held a welcoming ceremony for Merkel, and they jointly attended a symposium attended by business leaders from both nations.