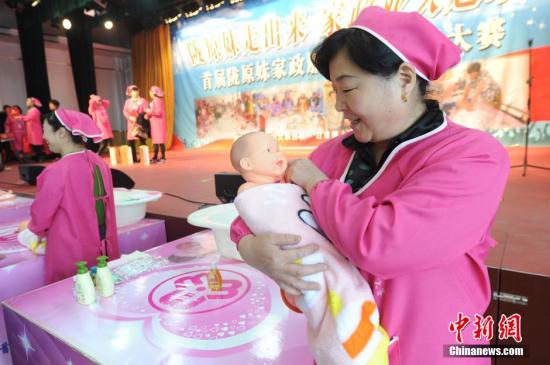 A home-service worker learns to take care of a baby at a domestic company in Gansu. (File photo/China News Service)
Special: 70th birthday of PRChina
(ECNS) -- China will launch a campaign to regulate the household service sector, with a focus on the application of social credit records of all stakeholders involved, amid efforts to nurture a sound business environment.
The Ministry of Commerce, central bank, taxation and market regulators are all behind this initiative spearheaded by National Development and Reform Commission (NDRC), China's top economic planner.
Measures will be taken to keep credit records of household service enterprises, employees, and also customers.
As a general rule, trustworthy entrepreneurs will be rewarded under the system, such as receiving preferential treatment in raising fund or taxation incentives, while infringers will be discredited and may face joint punitive actions.
A list of discredited companies and individuals will be released when the time is right, according to a statement on NDRC's official website.
Information about discredited companies and individuals will be shared on a national platform specially for the household services sector while an app will also be developed for the public to make inquiries when in need of such services.
Based on credit records, efforts will be made to develop a comprehensive credit rating system to evaluate companies that provide elderly care, childcare and housekeeping services.